Class: Boebert Literally Tosses Pin Honoring School Shooting Victim in Trash
Last month, Lauren Boebert gave mass shooting survivors the cold shoulder. Now she's decided to level up.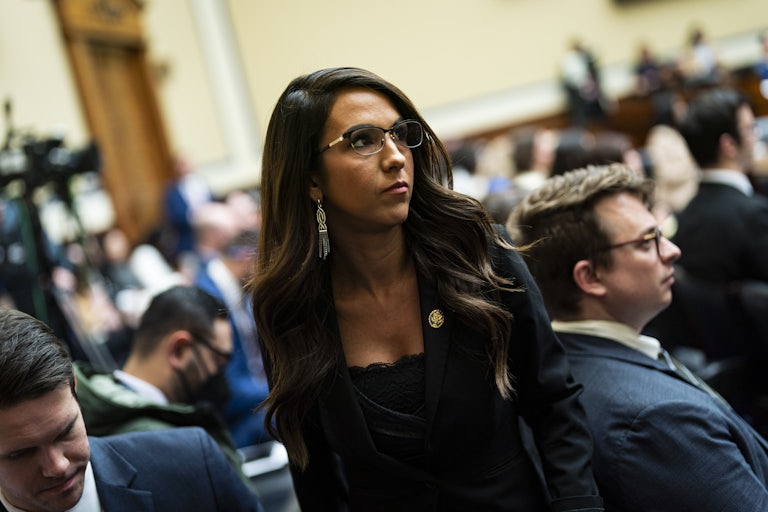 Al Drago/Bloomberg/Getty Images
Representative Lauren Boebert
Among the first rules of P.R. is learning from your mistakes. If, for instance, you are a member of Congress caught on camera actively and coldly ignoring mass shooting survivors who are visiting the Capitol—you might not want a repeat incident.
But Lauren Boebert doesn't care what you think about her, OK? She's gonna stick to her guns.
On Tuesday, organizers with Moms Demand Action and Lives Robbed—a group speaking out about the impacts of gun violence after the Robb Elementary school shooting in Uvalde, Texas—were handing out pamphlets dedicated to one victim, Maite Rodriguez. Along with the pamphlet, which included a letter from her mother, the organizers attached a pin of Rodriguez's green Converse shoes. The pin even had the heart over her right toes that she drew on with a marker.
After an organizer explained the pamphlet to Boebert, thanking her and wishing her a nice day, the Colorado Republican visibly walked faster to the trash can so she could throw it away.
"We hope you take action on gun violence prevention," an organizer is heard saying as Boebert dashed to the trash.
Last month, organizers simply invited Boebert to say hello to gun violence survivors visiting the Capitol.
"Hey, there's a lot of survivors over there if you want to …," one young visitor started to Boebert.
"Survivors of gun violence if you want to talk to them," another finished. "Survivors from Uvalde, Parkland.… You don't really care?"
Indeed, she didn't seem to care. "It's alright. My son died for you to just go do that," said Brett Cross, whose son was shot and killed at the Uvalde shooting, as Boebert walked by without even looking at him.
That day, while Boebert and other Republicans gave survivors of gun violence nothing, others, like Representatives Summer Lee, Rashida Tlaib, and Ilhan Omar, and Senators Bernie Sanders and Jon Ossoff, made sure to share their time with Washington's guests.
"She does not give a damn," Cross said in a video Tuesday, with a poster of his son in the background. "And what she seems to forget is that her son is 17, still in school. That could've been his pin. She about to have a grandbaby, and in a few years, that could be their pin, and she don't give a rat's ass," he continued.

"All she had to do was just take it, and then say, Look: We might not agree with one another on Second Amendment or assault weapons … but to do that is just so cold and callous. And she is supposed to be a representative of the people."
"If y'all voted her in—if you actually went to the ballot, and voted for Lauren Boebert—then that just goes to show where your morals are at too. Fuck her."