Raskin: Star Hunter Biden Witnesses Have Already Undermined GOP's Case
There are two big flaws when it comes to Republicans' "whistleblowers."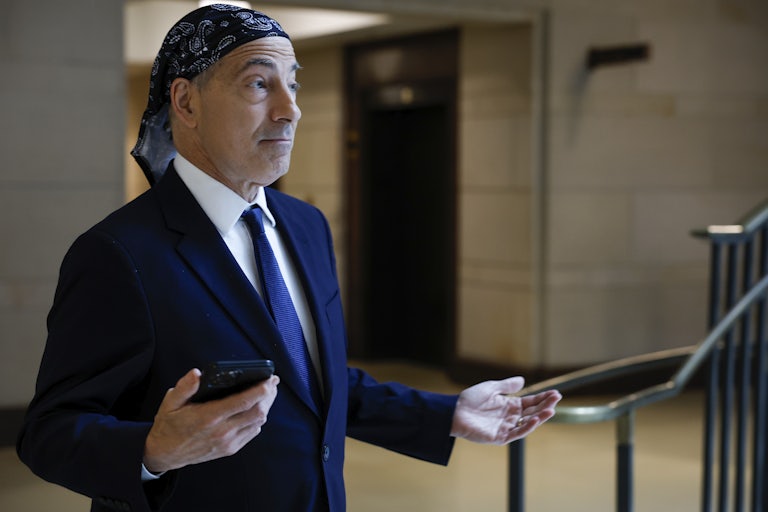 Anna Moneymaker/Getty Images
Representative Jamie Raskin
As the House Oversight Committee prepares to interview two IRS agents Wednesday on supposed corruption in the Biden family, Ranking Member Jamie Raskin has already debunked Republicans' star whistleblowers' testimony.
House Republicans, led by Oversight Chair James Comer, have for months accused the Bidens of corruption and other forms of wrongdoing, although they have yet to produce any actual evidence. They've recently seized on Hunter Biden's plea deal over his taxes, which will allow him to avoid jail time. Republicans are livid over the deal and have accused the Justice Department of blocking the probe.
Two IRS agents, Gary Shapley and a person identified only as "Mr. X," are set to testify on how the investigating prosecutor, David Weiss, and the Justice Department allegedly dragged their feet in the investigation. But Shapley and Mr. X have already "undermined this Republican narrative in their depositions" during testimony before the House Ways and Means Committee in May, Raskin said in a memo to other Oversight Democrats.
"Both witnesses acknowledged it is very common for agents, supervisors, and prosecutors to disagree about investigative steps and charging decisions," Raskin said in the memo, which was sent late Tuesday and obtained by The New Republic.
Shapley previously testified that such disagreements happened with "90-plus percent" of his work. Meanwhile, Mr. X said that even his direct supervisors disagreed with his conclusion about the strength of the case against Hunter Biden.
"That was a huge disagreement," he testified. "I met with top, top officials on presenting the evidence and presenting the case. And at the end of the day it was still a 'no.'"
Both agents even previously acknowledged that the evidence wasn't strong enough in certain cases to merit charges. But they have continued to cry foul over the investigation.
Raskin also noted that many of the investigative decisions that the two IRS agents took most issue with actually happened under former President Donald Trump. Shapley and Mr. X disagreed with decisions made from September to December 2020, when Bill Barr was still attorney general. Weiss is also a Trump appointee.
Weiss has already debunked several of Shapley's claims, including that Weiss did not have final say on charging Hunter Biden and that the Justice Department blocked him from pursuing charges in D.C. and refused to grant him special counsel status.
"To clarify an apparent misperception and to avoid future confusion, I wish to make one point clear: in this case, I have not requested Special Counsel designation," Weiss said in a letter to Senator Lindsey Graham last week.

He explained that he would have been granted that status "if it proved necessary," although he did not say who ultimately decided that it did not. Weiss also said he had "never been denied the authority to bring charges in any jurisdiction."