Raskin Demands Comer "Publicly Reprimand" Greene for Waving Around Hunter Biden Nudes
Marjorie Taylor Greene's actions are turning the committee into "a 1970s-era dime store peep show," the Democratic congressman warned.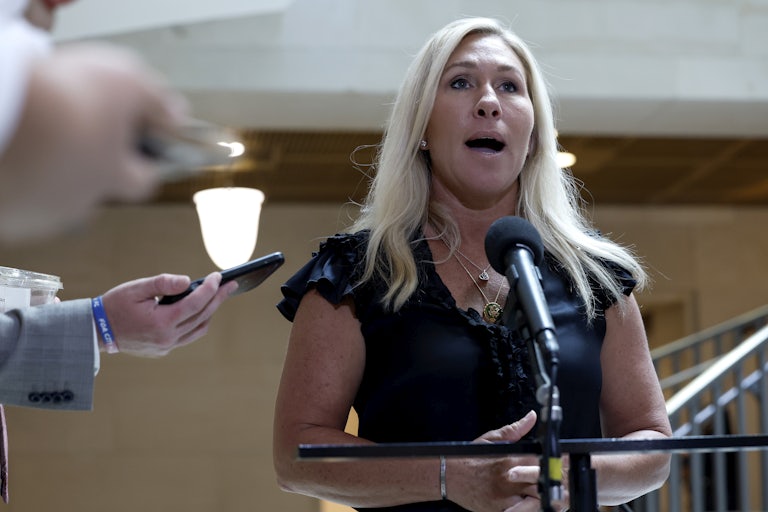 Anna Moneymaker/Getty Images
Representative Jamie Raskin is accusing House Oversight Chair James Comer of undermining the committee's credibility by allowing Marjorie Taylor Greene to show Hunter Biden's nude photos, saying the committee is being "reduced to the level of a 1970s-era dime store peep show."
The House Oversight Committee heard testimony last week from two IRS agents who say the Department of Justice dragged its feet on investigating the younger Biden for tax fraud. The hearing produced zero actual evidence, so instead, Greene tried to claim that Biden engaged in sex trafficking and listed payments to sex workers as a tax write-off. To support her argument, she held up poster-size prints of Biden's nude photos, which she later also posted on Twitter and shared in her email newsletter.
In a letter sent to Comer Wednesday evening, Raskin tore into his colleague for refusing to stop Greene during the hearing. Raskin asked Comer to publicly reprimand Greene and to establish new committee rules banning the display of "pornographic images" unless they are actually relevant to the case at hand.
"If Rep. Greene's completely gratuitous and irrelevant display of pornographic images at our televised hearing does not violate the Congressional rules of decorum, then we have no rules of Congressional decorum," Raskin said in the letter, which was obtained by The New Republic. "This type of display is a violation of House rules, and, as you yourself have recognized, also 'counter to a credible investigation.'"
Raskin also called Comer out for repeatedly declining to condemn Greene's actions. Instead, the official Oversight Republicans' Twitter account shared Greene's tweet, which included a video clip of her holding up the nude photos.
"These pictures were displayed across America for purely voyeuristic, sensationalistic, and sadistic purposes," Raskin said in his letter. "Our Committee, which was once chaired by heroes of the public interest like Henry Waxman and Elijah Cummings, is rapidly being reduced to the level of a 1970s-era dime store peep show."
"Your failure to halt Rep. Greene's display of pornographic photography during Committee proceedings undermines the integrity of this Committee and the House of Representatives."
Democrats moved earlier this week to censure Greene for a variety of offenses, including showing Biden's nudes. The resolution also condemns Greene for calling Muslim members of Congress part of the "Jihad Squad" and for appearing at a white nationalist event.
"For me, censuring Rep. Taylor Greene is about the health of our democracy and faith in government. Her antisemitic, racist, transphobic rhetoric has no place in the House of Representatives," said Representative Becca Balint, who introduced the measure Tuesday.
Biden has also hit back at Greene: His lawyer, Abbe Lowell, filed an ethics complaint against her on Friday, sending a letter to the nonpartisan Office of Congressional Ethics asking that Greene be investigated and penalized for her "outrageous, undignified conduct."