Rudy Giuiliani Should Lose Law License for "Malicious" Efforts in 2020, Panel Says
Things are not looking good for Rudy.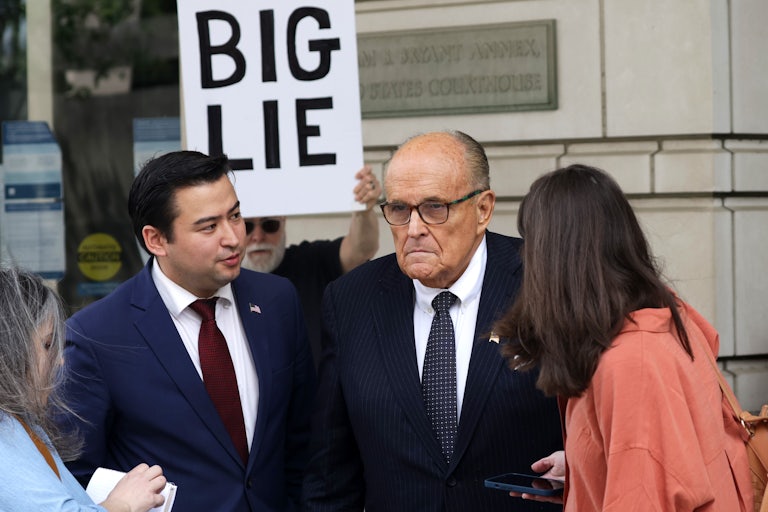 Alex Wong/Getty Images
Rudy Giuliani
Rudy Giuliani has been embroiled in scandal for years, most recently for being accused of promising to pay a woman a $1 million annual salary to be his close associate, and instead raping and abusing her over the course of two years. He also was allegedly constantly drunk, plotted to sell pardons to criminals, and regularly made racist and antisemitic comments.
And now, separately, a court panel is calling for him to be disbarred from practicing law for trying to overturn the 2020 election results.
The D.C. Board on Professional Responsibility issued a 38-page memo on Friday detailing their conclusion that the former Trump lawyer should be disbarred for his "destructive" efforts to help overthrow the election in service of the twice-impeached, now twice-indicted, and liable for sexual abuse former president.
"His malicious and meritless claims have done lasting damage and are antagonistic to the oath to 'support the Constitution of the United States of America' that he swore when he was admitted to the Bar," the panel wrote. "The misconduct here sadly transcends all his past accomplishments. It was unparalleled in its destructive purpose and effect. He sought to disrupt a presidential election and persists in his refusal to acknowledge the wrong he has done. For these reasons, we unanimously recommend that Mr. Giuliani be disbarred," the panel added.
The panel, appointed by the D.C. Court of Appeals to serve as its "disciplinary arm," had deliberated for months on the decision.
The D.C. bar's Office of Disciplinary Counsel had come to the conclusion last December, saying his license to practice law should be revoked. Giuliani's ability to practice law in the district had already been suspended by the D.C. Court of Appeals, and that same court is now tasked with deciding whether to heed the calls and indeed fully disbar him.
Giuliani had already previously been suspended from practicing law in New York for making "demonstrably false and misleading statements" while trying to help overturn the election.

"The decision-makers at the DC Bar Association are nothing more than an arm of the permanent regime in Washington," said Giuliani advisor Ted Goodman. "This is also part of an effort to deny President Trump effective counsel by persecuting Rudy Giuliani—objectively one of the most effective prosecutors in American history. This is the sort of behavior we'd expect out of the Soviet Union, not America."
"I call on rank-and-file members of the DC Bar Association to speak out against this great injustice," Goodman finished.
Giuliani may also likely face further criminal charges in the Department of Justice's investigation into Trump's 2020 election interference, led by special prosecutor Jack Smith. Smithhas already leveled 37 felony counts against Trump for taking and mishandling top secret government documents.