"You Can Kiss My Ass": Pretty Much Everyone Hates Matt Gaetz Now
The far-right representative has plunged the House into chaos—and turned his own party against him.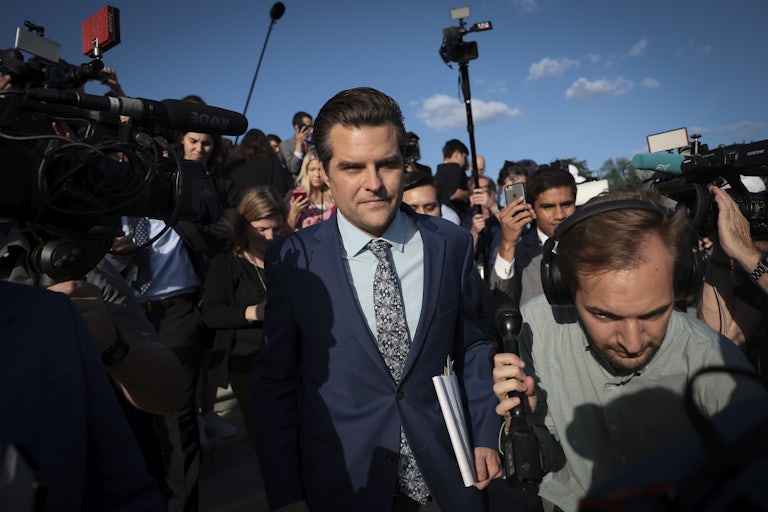 Win McNamee/Getty Images
Representative Matt Gaetz
Matt Gaetz more or less singlehandedly plunged the House of Representatives into chaos, and his GOP colleagues are furious with him for it.
Gaetz introduced a motion to vacate the speakership on Monday. The next day, he led seven other Republicans to break ranks and vote with Democrats to oust Kevin McCarthy. The House is now scrambling to find a new speaker, and a clear front-runner has not yet emerged. Gaetz, the man who started it all, has no plan whatsoever.
And House Republicans are over it.
"I think Matt Gaetz is a disgraceful human being," Matt Lawler told reporters Wednesday. "I think he has certainly alienated lots of people left and right."
Lawler added he thought Gaetz should be kicked out of the Republican conference altogether.
Gaetz's fellow Florida Republicans think he is "divisive. Disrespectful. Selfish," not to mention desperate for attention, according to Politico.

"He's about clicks," Carlos Giménez said. "He's about how many cameras he can get shoved in his face, and he's a historical figure because he caused for the first time in history and all that. I think he gets off on that."
Many Republicans said it was "disgusting" and "inappropriate" that Gaetz also began to fundraise off kicking McCarthy out, all while bringing the party no closer to achieving its legislative goals.
"At the end of the day, we're doing this, we're not passing appropriations bills," Michael Waltz said of the vote to vacate. "We're not dealing with the border. We're not dealing with inflation."
Giménez also warned that Gaetz has "very few friends"—and the list seems to be shrinking. Chip Roy and Gaetz have been staunch anti-McCarthy allies from the beginning, both holding out against the California Republican during the votes for speaker in January. When Gaetz replaced Roy on the House Judiciary Subcommittee on the Weaponization of the Federal Government in February, Roy said he was glad to hand the spot over to "my friend."
But Roy is singing a very different tune now, lashing out Tuesday at Gaetz and the other Republicans who voted against McCarthy.
"Some of our brothers and sisters—particularly in the, you know, MAGA camp, I think—particularly enjoy the circular firing squad," Roy said Tuesday night on The Blaze. "You want to come at me and call me a RINO? You can kiss my ass."
"You go around talking your big game," Roy said, "and you thumping your chest on Twitter? Yeah, come to my office, come have a debate, mother."
Roy confusingly later said he was not addressing Gaetz or the other anti-McCarthy Republicans, adding that he understood their frustrations but disagreed with their method.
The growing anger toward Gaetz is unlikely to help him as Republicans weigh whether to expel him from Congress. The House GOP will likely move to expel Gaetz if the Ethics Committee finds him guilty of sexual misconduct, illegal drug use, and other wrongdoings.