A Closer Look at Alexandre de Moraes, Brazil's Top Election Official
Moraes has kept a close eye on Jair Bolsonaro and helped ensure a peaceful transfer of power. But many analysts worry he's overstepped.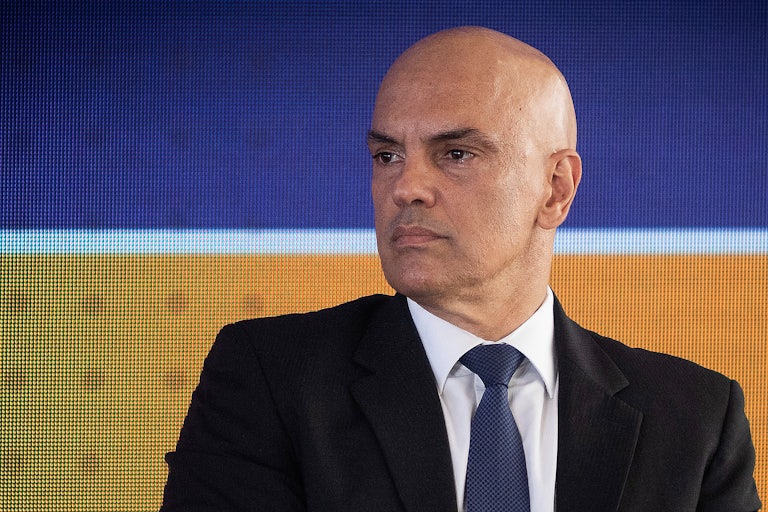 Arthur Menescal/Getty Images 2022
Brazilian President Jair Bolsonaro's peaceful transfer of power to Luiz Inacio Lula da Silva, following his election loss, is thanks in large part to one man: top Supreme Court judge Alexandre de Moraes.
The judge has been praised for his dogged campaign to rein in the outgoing far-right leader. But many analysts worry that Moraes has overstepped the boundaries of his role, and risks denting the high court's legitimacy in the long run.
Bolsonaro, a firmly anti-establishment figure, and Moraes, a stalwart of Brazilian political institutions, have feuded bitterly over the past few years. Moraes, who was appointed by Bolsonaro's predecessor, has launched multiple criminal probes into the now former president and arrested some of his main allies.
Moraes is also investigating the source of lies and death and rape threats against the Supreme Court justices and their families, as well as an alleged online network of businessmen, political advisors, and bots spreading pro-Bolsonaro disinformation.
Michael Mohallem, a professor at the Law Institute of the Pontifical Catholic University of Rio de Janeiro, warned that the court's casting of itself as both victim and judge could come back to bite it. "Once you cross that line, you have extra work to say why that same precedent doesn't apply again," he told Bloomberg News in June.
Bolsonaro, for his part, has lashed out repeatedly at Moraes. The former army captain has said he does not recognize Moraes' power and praised the former military dictatorship.
In the run-up to the election, Bolsonaro repeatedly sought to cast doubt on Brazil's electronic voting system, saying it was susceptible to fraud. Many worried that he would refuse to accept the results if he lost and try to overturn the election, in the manner of Donald Trump. Bolsonaro is an outspoken admirer of the former U.S. president, and vice versa.
Bolsonaro has yet to formally acknowledge his defeat, but he has not contested the results. His office has said it has begun the transfer of power to Lula.
Moraes, who was appointed the chief election official, was given unilateral power in the last few weeks before the election to moderate what was posted online in Brazil.
He was able to order tech companies to remove any posts that contained false information. Bolsonaro's supporters decried the move, but so did many internet law and civil rights experts, who said it risked tipping into authoritarianism.