U.S. Soccer Captain Shuts Down Iranian Reporter's Whataboutism After Flag Row at World Cup
An Iranian state media reporter pressed Tyler Adams about racism in America. The men's soccer captain answered thoughtfully.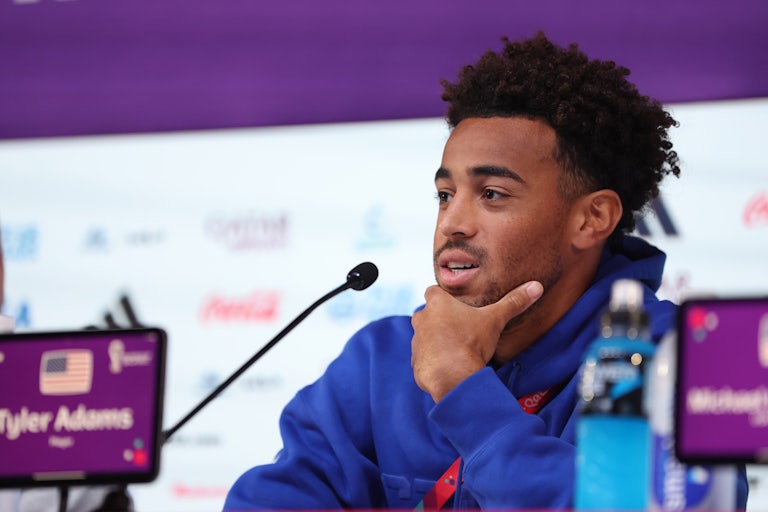 Sarah Stier - FIFA/FIFA via Getty Images
Tyler Adams knows when to apologize—and when not to.
At a press conference on Monday, the U.S. men's soccer captain was confronted by an Iranian state media reporter who accused Adams of hypocrisy.

"You say you support the Iranian people, but you're pronouncing our country's name wrong," Press TV reporter Milad Javanmardy said.

Javanmardy proceeded to press Adams, asking, "Are you okay to be representing a country that has so much discrimination against Black people?"
Adams, 23, apologized about his mispronunciation of "Iran," before thoughtfully answering Javanmardy's pointed question.
"I grew up in a white family with obviously an African-American heritage and background, as well. So I had a little bit of different cultures and I was very, very easily able to assimilate in different cultures," he said.

"Not everyone has that ease and the ability to do that…through education, I think it's super important. Like you just educated me now on the pronunciation of your country…I think, as long as you see progress, that's the most important thing."
Monday's conference was unusual, as both Adams and U.S. coach Gregg Berhalter fielded charged question after question, ranging from why the American government hasn't removed a Naval ship from near Iran to why people with an Iranian passport can't travel to America.
Iranian state affiliates have attacked the U.S. Soccer Federation for its social media accounts displaying Iran's flag without the emblem of the Islamic Republic. U.S. Soccer said it wanted to change the flag for 24 hours to express "support for the women in Iran fighting for basic human rights.".
In response, Iranian state media suggested on Sunday that the U.S. should be kicked out of the World Cup and suspended for 10 games.
Javanmardy, who questioned Adams, works for Press TV—an organization owned by the Islamic Republic of Iran Broadcasting. The corporation's head is appointed by the Iranian state leader, Ayatollah Ali Khamenei.
Of course, Javanmardy is not wrong in a general sense about America's pervasive racism. But his targeted questioning is part of a larger pattern of whataboutism by Iranian state affiliates to detract attention from the state's continual civil rights violations. And Adams, the youngest captain at this year's World Cup, seamlessly displayed the brazen ridiculousness of it all.