Did "Union Joe" Just Doom Democrats' Push to Give Rail Workers Paid Sick Leave?
After House Democrats passed an amendment on paid sick leave, Biden failed to meet the moment.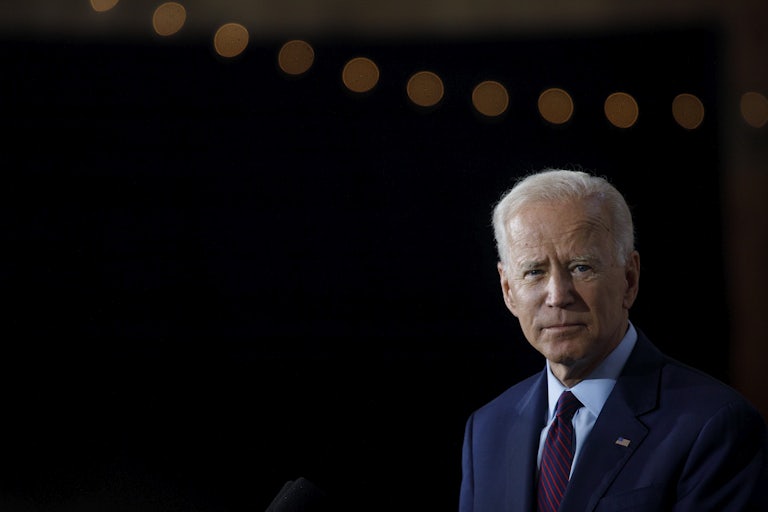 Tom Brenner/Getty Images
President Joe Biden, also known as "Union Joe" and "Amtrak Joe," is failing rail workers.
On Wednesday, the House voted 290–137 to support a labor agreement brokered by Biden in order to avert an impending rail strike. The House then voted 221–207 to add seven paid sick leave days to said agreement. Every Democrat in the House endorsed this amendment. Rail workers currently have no paid sick days.
Biden remained mum on the paid sick leave measure, only recognizing the success of the labor deal he arranged.
"This overwhelming bipartisan vote in the House of Representatives makes clear that Democrats and Republicans agree that a rail shutdown would be devastating to our economy and families across the country," Biden said in a statement, failing to note the still significant Republican opposition to his labor agreement.
In a press conference Wednesday, press secretary Karine Jean-Pierre carried the rest of the message: Of course Biden supports paid sick leave for workers, he is just not interested in working to make it a reality.
The White House is dressing up this inaction as concern for the impacts a nationwide rail strike would have on the economy. But given that a majority of rail workers have rejected Biden's tentative agreement, there's no guarantee his deal would stop a strike anyway.
Meanwhile, the White House has self-imposed a deadline of December 6 for Biden to sign any legislation, three days earlier than the deadline unions threatened before striking. The administration appears to be fomenting heightened urgency in order to avoid engaging with the basic fact that it is not going to bat for workers.
The paid sick leave bill, given to Biden on a platter by progressives, offered the president a second chance at getting it right for rail workers.

After every single present Democrat—218 of them—voted in support of the measure, Biden could have expressed excitement at the prospect of giving rail workers paid sick leave, blasted the 207 Republicans who voted against it, and even pressured the Senate to follow the House's suit. After all, numerous Republican senators, including Ted Cruz, Marco Rubio, and Josh Hawley, have expressed noncommittal support for rail workers. Biden could have turned the tables and forced them and other Republicans to put up or shut up. It would have been good politics, and morals too.
Instead, Biden is completely dropping the ball on advocating for workers. Once again.