Top Republicans Remain Silent on the Attack on Brazil's Democracy
Thousands of supporters of Jair Bolsonaro, Brazil's former far-right president, stormed the Congress in an attack that has been compared to January 6. Republicans don't have much to say about it.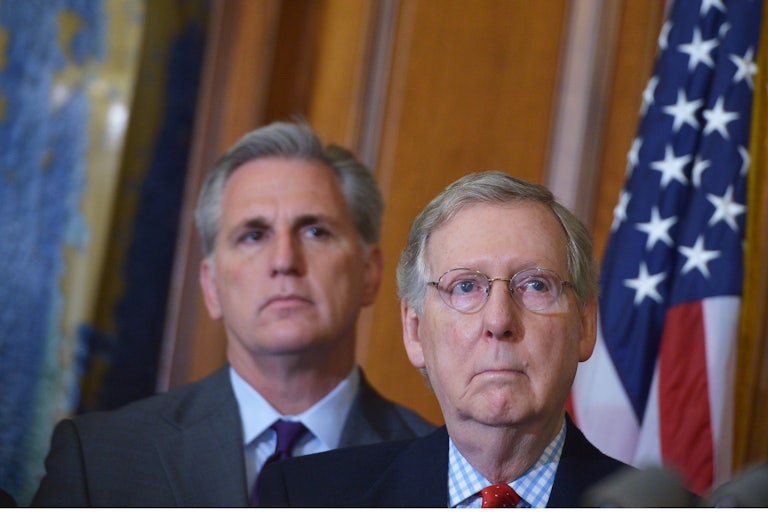 MANDEL NGAN/AFP/Getty Images
Thousands of supporters of Jair Bolsanaro, Brazil's former far-right president, descended upon and invaded several government buildings on Sunday, in an attack on democracy that has been compared to January 6. Officials worldwide have condemned the attack and expressed support for President Luiz Inácio Lula da Silva's government. This includes an array of Democratic officials, from Abigail Spanberger to Jamaal Bowman, starting all the way at the top:
It's hard to link to all the other statements from Democrats, given how many have spoken out on the frenzied attack. And many are actively expressing their support for Lula as the rightful president, rather than just sharing amorphous defenses of democracy.
Meanwhile, there have been few Republicans speaking out in defense of democracy, or even issuing hodgepodge statements on law and order. Republican leadership has remained completely silent, with no statements from Mitch McConnell or Kevin McCarthy. Donald Trump, who incited our own January 6, 2021, attack, has similarly been quiet.
The few statements from Republicans have come from Representatives George Santos and Brian Fitzpatrick and Senator Rick Scott.
It's very easy to be cynical, to view Republicans' general silence in response to a massive coordinated attack on Brazil's democracy as unsurprising, given how many of them tacitly if not actively supported a similar attack on their own soil just two years ago. Yet it's worth reaffirming as often and clearly as possible how radically extreme this party is that you can count with one hand how many of its members say they care about the will of the people.