Three Things to Know About the Inflation Report
Inflation cooled in November, according to a new report released by the Labor Department. Let's put that in context.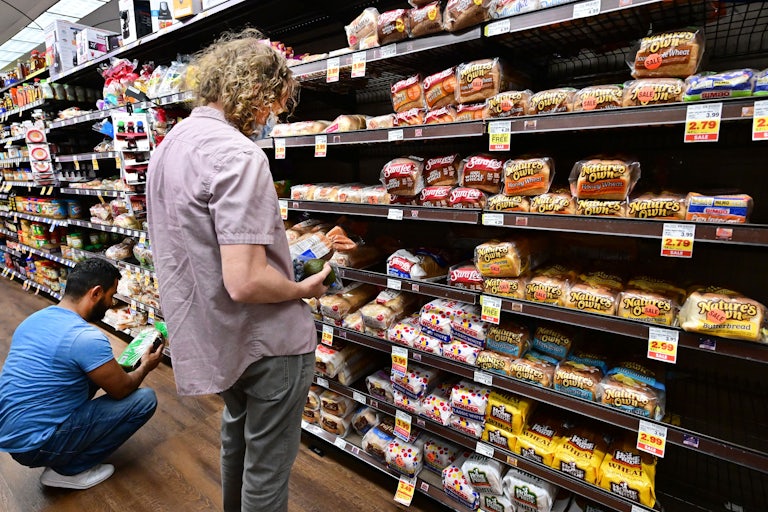 FREDERIC J. BROWN/AFP/Getty Images
People shop for bread at a supermarket in Monterey Park, California, on October 19. In the year through November, grocery prices rose 12 percent, according to data released by the U.S. government.
The consumer price index, or CPI, a key government measure of inflation, indicates that inflation finally seems to be slowing a bit, according to a report released Tuesday by the Bureau of Labor Statistics.
The index measures the monthly change in prices paid by U.S. consumers for specific goods.
Here are three things to know about the inflation report, and what it might mean looking forward.

1. It has some of the the lowest increases in almost a year.
Prices rose 7.1 percent in November compared to a year earlier. This is a big slowdown from October, which saw a 7.7 percent increase compared to the previous year, and the smallest yearlong increase since December 2021.
It may seem counterintuitive to celebrate a 7.1 percent increase, but overall, prices in November rose just 0.1 percent from the previous month.

Removing the price increases for food and energy, which are always volatile, even before the Covid-19 pandemic and the war in Ukraine, prices rose 0.2 percent in November. This is the smallest monthly increase since August 2021.

2. But inflation remains high in key areas.
A big contributing factor in the low price increases was energy. Prices for gasoline, natural gas, and electricity fell 1.6 percent from October.
But prices for food and shelter increased. In fact, they went up the most of any sector. Costs for groceries and eating out went up 0.5 percent, and housing costs rose 0.6 percent.

3. Will it affect the Federal Reserve's decision on Wednesday?
The Federal Reserve begins its policy-setting meeting Tuesday and is expected to announce a 0.5 percent increase in interest rates. The new CPI report is unlikely to affect that decision any further, according to Dean Baker, the senior economist at the Center for Economic Policy and Research.
"The Fed is always worried about pulling surprises," he explained.
The U.S. central bank is scrambling to achieve a so-called soft landing, or a decrease in inflation without tipping the economy into a recession. The labor market has remained strong overall, causing concerns that the economy has not slowed sufficiently to avoid a downturn. But Baker says a soft landing is "definitely" still possible.
"It is now indisputable that inflation has slowed sharply, without a big rise in unemployment," he said. "It is not clear yet that it is at a rate that the Fed considers acceptable, but the rate clearly is much lower than it was earlier in 2022."