Senate Votes to Repeal Iraq War Authorizations, 20 Years After U.S. Invasion
The vote repeals two AUMFs that authorized the 1991 Gulf War and the 2003 invasion.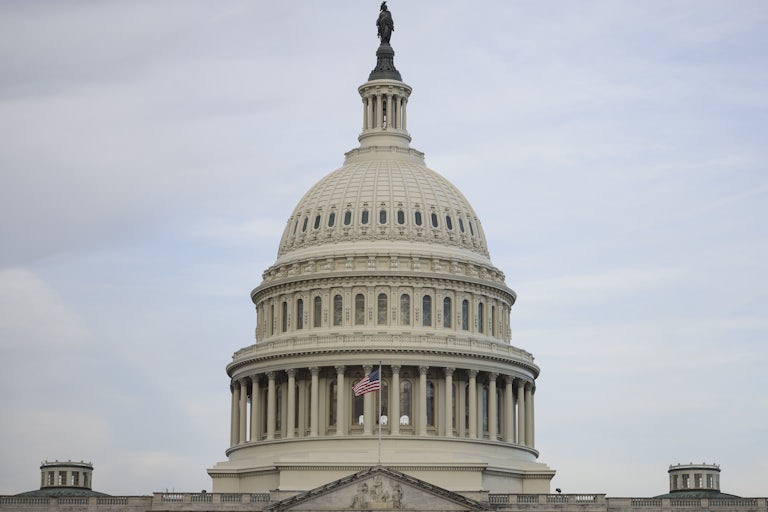 Kevin Dietsch/Getty Images
On Wednesday, the Senate voted 66–30 to repeal the 1991 and 2002 Authorizations for Use of Military Force, or AUMFs, against Iraq.
The bill will eliminate the authorizations that authorized America's Gulf War under President George H.W. Bush and the invasion of Iraq under President George W. Bush.
It has taken a long process for the United States to eliminate the authorizations. In June 2021, the House voted 268–161 to roll back the 2002 AUMF, but the Senate did not advance it any further. Now this Senate's repeal effort goes to the House, where an array of legislators on both sides of the aisle have expressed their support.
House Majority Leader Kevin McCarthy has said he's "into" the repeal effort—so long as the 2001 AUMF enacted after 9/11 remains untouched. Such an opinion is likely held by many members in both parties. While endorsing the effort to repeal the 1991 and 2002 authorizations, the Biden administration noted that the U.S. "conducts no ongoing military activities that rely primarily" on the pair of authorizations anyhow. "Repeal of these authorizations would have no impact on current U.S. military operations," the administration said in a statement.
And indeed, the 2001 AUMF after September 11 is untouched by this legislation. The authorization has been used to justify U.S. action in Afghanistan, Cuba, Djibouti, Eritrea, Ethiopia, Georgia, Iraq, Kenya, Libya, the Philippines, Somalia, Syria, and Yemen, among others.
Earlier this month, the House rejected a resolution that would have required a withdrawal of all U.S. troops from Syria. Only 56 Democrats and 47 Republicans voted in favor of the resolution.
So it is good to see even Republicans joining the righteous movement to repeal these military authorizations; ideally the margins are even larger in the House vote. But the Senate vote was not even close to unanimous. That, coupled with such an outward impulse exhibited by leaders in both parties to assure that the bill will not impact America's existing military presence throughout the world, does not inspire confidence about how much reflection the country is actually undergoing. While the repeal signifies some level of chapter-turning, other pages remain wide open and full of space to spill more bloody ink on.