Donald Trump (and the Republican Party) Wants to Go to War With Mexico
A new report says Trump is gathering "battle plans" to attack Mexico if he wins in 2024. That says a lot about the whole Republican Party.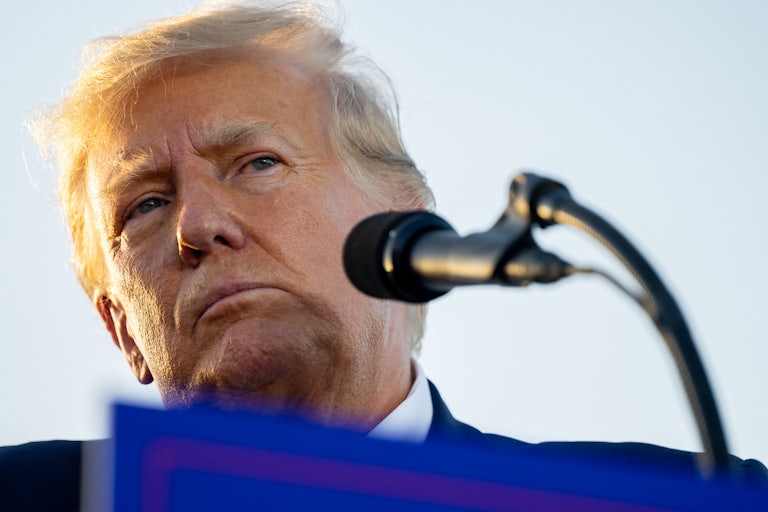 Brandon Bell/Getty Images
While evading criminal offenses and campaigning for the third presidential cycle in a row, the twice-impeached former president has been asking advisers for ideas about how to attack Mexican drug cartels, with or without Mexico's permission, reports Rolling Stone.
And Trump appears to have a menu of options.
One such idea, Rolling Stone notes, comes from a policy paper titled "It's Time to Wage War on Transnational Drug Cartels," which outlines strategies for America to "fundamentally [reorient] its posture" and wage "war against the cartels." The paper says that such a war should "invoke the spirit of the Monroe Doctrine" and that the U.S. would not tolerate "narcoterrorists" infringing upon its sphere of influence.
The paper seemed to downplay the reciprocity inherent to the Monroe Doctrine—that the U.S. would aim to avoid interfering in other spheres too. Because while the paper encourages the U.S. to request collaboration from Mexico, it also notes that "it is vital that Mexico not be led to believe that they have veto power to prevent the US from taking the actions necessary to secure its borders and people."
"'Attacking Mexico,' or whatever you'd like to call it, is something that President Trump has said he wants 'battle plans' drawn for," a source told Rolling Stone. "He's complained about missed opportunities of his first term, and there are a lot of people around him who want fewer missed opportunities in a second Trump presidency."
Among these missed opportunities? Well, according to former Defense Secretary Mark Esper's memoir, Trump had asked him if the U.S. could "shoot missiles into Mexico to destroy the drug labs," then lie and pretend it was not behind the attack. Just weeks ago, House Oversight Committee chairman and Fox mainstay James Comer said it was a "mistake" that Trump didn't go ahead and send out those bombs.
Is such a wild notion limited to Trump? Surprise: As with most radical policies, the whole Republican Party is implicated. After all, the policy paper was written by former Trump official and now Ron DeSantis endorser Ken Cuccinelli.
Wheels are turning in the halls of Congress too. In January, Congressmen Dan Drenshaw and Michael Waltz introduced a bill to approve an Authorization for Use of Military Force that would approve military action in Mexico to target cartels (months before the Senate finally voted to sunset the 1991 and 2002 Iraq AUMFs). And on Wednesday, Senator Lindsey Graham introduced a bill to designate the cartels and other organizations as foreign terrorist organizations, laying the groundwork for such war authorizations.

So while bombing Mexico—without its permission, or even lying about doing it at all—may have earlier been a more Trump-specific craze, the entire Republican apparatus is now full speed ahead in looking to keep the military machine's cogs slicked up and spinning.
Heck, even 2024 candidate Vivek Ramaswamy has declared he would use "military force to decimate the cartels, Osama bin Laden–style."