The Israeli Protests Show the Political Power of Unions
A historic strike from unions across the country made the Israel prime minister delay his plan to overhaul the country's judiciary system.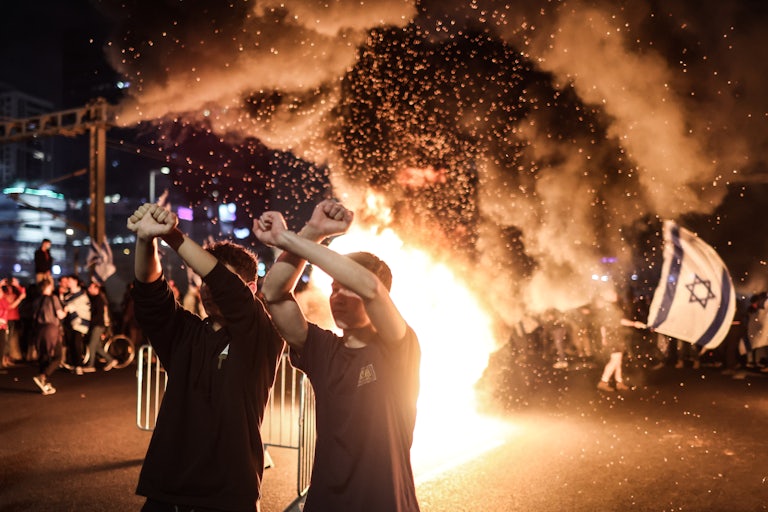 Ilia Yefimovich/Picture Alliance/Getty Images
Israeli protesters take to the streets after Prime minister Benjamin Netanyahu announced the dismissal of Defence Minister Yoav Galant, March 26.
Israel's Prime Minister Benjamin Netanyahu is relenting, for now, on his planned judicial overhaul. After months of mass protest culminating in a general strike on Monday, the far-right plans to seize the nation's judicial system will be tabled until the next legislative session. In an unlikely collaboration between big business and labor, Israel's people have shown the power of protest—and the potential for what more they could accomplish, if they so chose to.
Hundreds of thousands of people had already been protesting for weeks against what has become an even more authoritarian Israeli government. The opposition has centered around Netanyahu's push to give the Knesset (the Israeli Parliament) more power over the judiciary. Such changes would grant the ruling party the power to influence how judges are appointed and even overturn court decisions. Netanyahu himself may be aiming to use such powers to weasel out of his own corruption charges. One poll suggests nearly 1.5 million people may have participated in the ongoing protests against Netanyahu's attempts to seize and cripple the judiciary.
The tensions came to a new peak on Sunday, after Netanyahu fired Defense Minister Yoav Gallant, who, one day earlier, called for the government to stop its plan to overhaul the judicial system. Gallant argued that the plan had begun to create rifts in society and within the Israel Defense Forces that could risk Israel's stability and national security. He was the first member of Netanyahu's Cabinet to oppose the judicial overhaul.
After his firing, the already active protests ballooned into one of the largest mass actions in Israel's history. Massive, spontaneous protests took place throughout Tel Aviv on Sunday evening, with people blocking the main highway as well as several streets and bridges. And in unprecedented fashion, Israel's unions, in accordance with the business community, launched a general strike on Monday. The strike was initiated by a massive umbrella group that represents over 700,000 workers in health care, transit, and banking. An array of universities—not just students but the schools themselves—joined the call as well.
Israeli embassies from Dublin to Washington, D.C., shuttered their doors on Monday in tandem with government workers protesting within Israel. Israel's consul general in New York, Asaf Zamir, also resigned. Zamir called Netanyahu's firing of Gallant a "dangerous decision" in his resignation letter, adding that he had "become increasingly concerned with the policies of the new government."
The protests have become so ubiquitous that even Israeli President Isaac Herzog has called on Netanyahu to suspend the judicial overhaul. "The eyes of all the people of Israel are on you. The eyes of all the Jewish people are on you," Herzog said in a Facebook post Monday. "The eyes of the whole world are on you. For the sake of the unity of Israelis, for the sake of committed responsibility I call on you to halt the legislative procedure immediately."
Of course, as the snowballing protests are part of a larger movement that has stood for weeks and months against Netanyahu's increasingly extremist governance, they also serve as a reminder that calls for "protecting democracy" have not been as loud when it has come to the occupation of Palestine. What's unfortunate about this otherwise exciting popular rise against extremism is that the movement would do well to actively include Palestinian participation in standing against not just Netanyahu but the apartheid system that has led to such a moment. But some Israeli activists have not been allowed to bring even a Palestinian flag to demonstrations. Some officials involved in the increasingly large protest coalition have also refused to appear on stage alongside people sympathetic to the Palestinian cause.
So while Israeli officials frame this mass protest as an effort to preserve Israel's democracy, it would be prudent to note how short it still is from actually being one, even if the masses can stop Netanyahu; just as well, how readily they could become a true democracy, if they really want to.