Twitter Is Auctioning Office Items Like Espresso Machines, a Meat Slicer, and a Giant Neon Bird
Elon Musk's Twitter is auctioning off items from its San Francisco headquarters, in a sad sign for the company.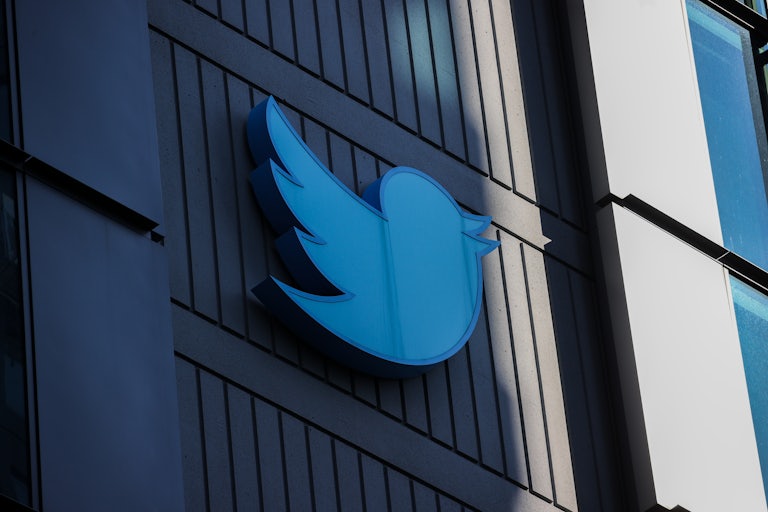 Tayfun Coskun/Anadolu Agency/Getty Images
Do you want to own a piece of history?
No, we're not talking about Donald Trump's weird NFTs. Twitter is auctioning off 631 different items from its San Francisco office, ranging from furniture and decor to massive espresso machines, kegerators, and a meat-and-cheese slicer.
People are already going nuts for the sales. A neon sculpture of Twitter's bird logo has a bid of $34,000 as of Wednesday morning. The antique-looking wheel slicer is going for $7,000. Even less interesting things, like sets of whiteboard room dividers, are going for about $1,000 each. The auction, which was quietly launched on Tuesday, ends Wednesday at 10 a.m. P.T. (1 p.m. E.T.).
While the auction is, on its face, absurd, it also paints a pretty sad picture of what's going on at Twitter. The sales include what looks like the entire office's worth of furniture: break-room stools, desks, workstation setups, extra chairs for meetings, even soundproof conference room pods. And it's all further proof of the utter chaos that seems to be raging at the online platform.
Since Elon Musk assumed the Twitter reins in October, it seems almost conservative to say that all hell has broken loose. He immediately fired the entire board of directors, followed by most of the staff. The rest have been leaving in droves, while those who remain have reportedly been living in their offices as they work around the clock.
Advertisers have shunned Twitter en masse, scared off by Musk's lax regulations and willingness to let Nazis run amok on the platform. The Tesla founder was already hard-pressed to come up with the $44 billion he agreed to pay for Twitter, and he has been open about needing to cut costs and increase revenue any way possible. One method to do so has apparently been to stop paying rent on office space. The landlord of the San Francisco office sued Twitter for $136,260 in unpaid rent earlier this month.
Musk has also rolled out the pay-for-verification subscription plan Twitter Blue. The plan is highly controversial because anyone can pay for verification, and thus legitimacy, including the Taliban. Between taking the extremist group's $8 and selling off everything in the San Francisco office, it seems Musk will go to a lot of lengths to make a buck.