MTG and Her Boyfriend Like to Attack Strip Clubs. A New Video Proves They're Hypocrites.
Marjorie Taylor Greene's hypocrisy knows no bounds.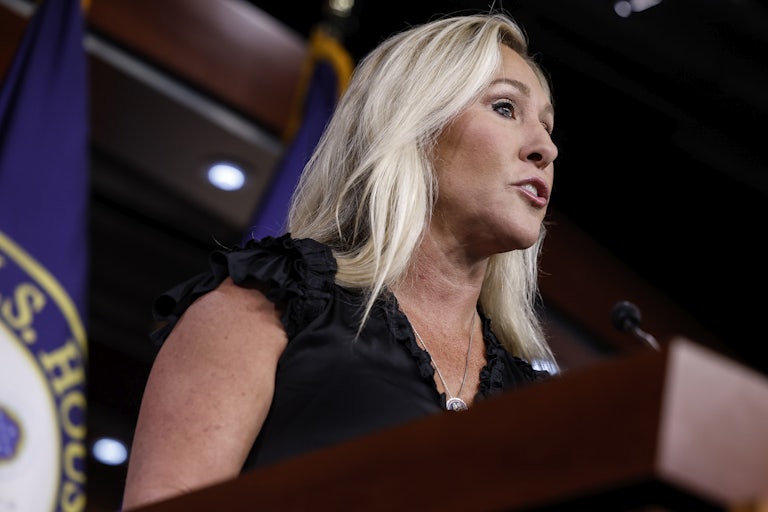 Anna Moneymaker/Getty Images
Representative Marjorie Taylor Greene
Representative Marjorie Taylor Greene and her boyfriend are back at it again with the bald-faced hypocrisy, this time attacking strippers.
In the latest episode of her podcast, MTG Battleground, which aired Monday night, Greene and her boyfriend, Brian Glenn, discussed how some strip clubs had drive-thru performances during the start of the Covid-19 pandemic. Glenn, who works for the conservative Right Side Broadcasting Network, said the move was "ridiculous."
"This is one of the things that Covid should've shut down and kept shut down, is strip clubs," Greene says, as they both laugh. "The very fact that Covid forced the strippers out in public … that is appalling to me."
But in an old news video, Glenn did a segment on male strippers that definitely brought the dancers out in public. He opens the segment by saying you could consider the dancers "therapists." It's not clear when the segment was filmed, but the microphone that he holds during the video bears the logo for the local Dallas-Fort Worth Fox news station. Glenn worked for that station from 2013 to 2015.
During the news segment, Glenn wears a vest over a cutoff flannel shirt and chaps over jeans. Two male dancers teach him how to strip his clothes off in time to music.
Glenn seemed to think strippers were just fine in that video. But now, he and Greene are laughing about how Covid should have put an entire industry out of work.
These two clips began circulating online just a day after Greene, who has gone out of her way to viciously attack drag queens, tweeted that she was "literally lol'ing" at an old video of Glenn wearing drag on the local Dallas news.
Once again, it appears that physical actions of wearing drag or sex-related work are not the issue. The problem for Greene and other Republicans like her are the people doing them.