Trump Rips Into Former Press Secretary for Mentioning Rising DeSantis Poll Numbers
Trump attacked Kayleigh McEnany, a Trump loyalist, and called her "milktoast."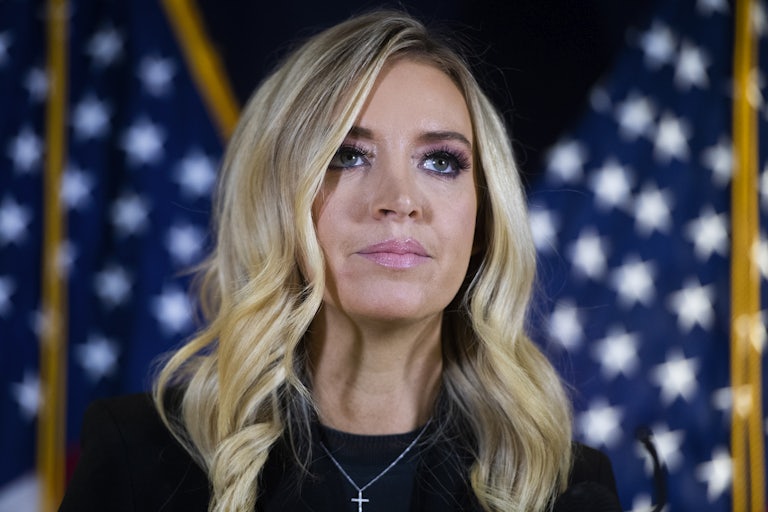 Tom Williams/CQ-Roll Call, Inc/Getty Images
Kayleigh McEnany
On Tuesday, twice-impeached, criminally indicted, and liable-for-sexual-abuse former President Donald Trump attacked his former press secretary, "Kayleigh Milktoast McEnany," on his far-right social media platform, Truth Social.
Imagine reading that sentence in 2015.
"RINOS & Globalists can have her," Trump said ("RINOS" meaning Republican in name only).
Trump went after McEnany after she appeared on Jesse Watters's Fox show, where she discussed Ron DeSantis's polling in Iowa. "If you look at the polling now, it was Trump [with a] 34 [point lead] in Iowa, it's now Trump 25," McEnany said, noting that team DeSantis saw this as a positive sign of growth since announcing the campaign. "Still, Trump's hugely ahead, but they say they're closing the gap. That's their argument," she followed.
It's not entirely clear what poll McEnany is citing; the most recent Iowa poll had Trump up by 42 points.
"Kayleigh 'Milktoast' McEnany just gave out the wrong poll numbers on FoxNews. I am 34 points up on DeSanctimonious, not 25 up," Trump lambasted on Truth Social. "She knew the number was corrected upwards by the group that did the poll."
Trump appeared to be trying to call McEnany "milquetoast," but, as often is the case, spelling is not his strong suit. It's not clear what poll Trump is referring to either, for that matter.
"FoxNews should only use REAL Stars!!!" Trump concluded.
McEnany received all that flak for making observations based on numbers she presumably assumed were true. All while still noting that "Trump's hugely ahead."
Beyond serving as Trump's main attack dog and shield against the press for years—both on the campaign side and in the White House—McEnany was among the leading public-facing peddlers of false claims about the 2020 election.
The day after January 6, 2021, McEnany took to the White House press podium to defend the administration, saying that "those who violently besieged our Capitol are the opposite of everything this administration stands for." It's a humorous claim now, given Trump has since repeatedly expressed his eagerness to pardon "those who violently besieged our Capitol."