Texas Governor Signs "Death Star" Bill Stripping Power From Local Officials
Greg Abbott's move prevents local governments from passing needed regulations on things like labor rights, the environment, and more.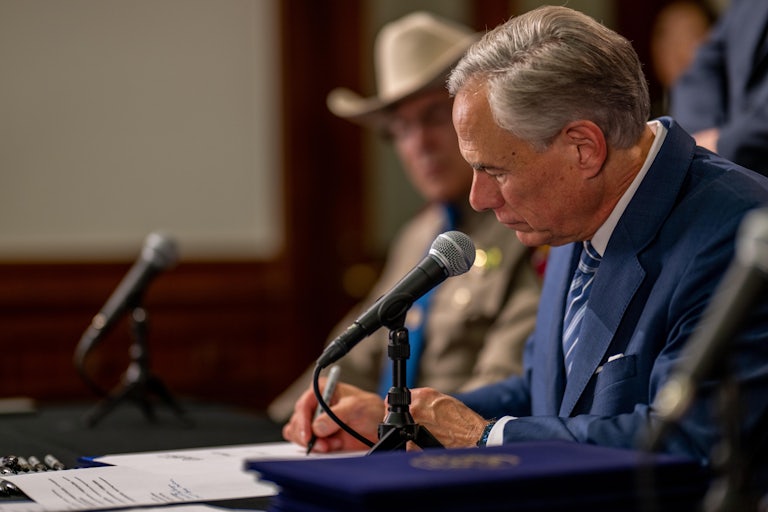 Brandon Bell/Getty Images
Texas Governor Greg Abbott
A new Texas law backed by Republicans, business lobbying interests, and Governor Greg Abbott strips power from local officials to regulate things like housing, worker protections, the environment, public health, and more. In other words, Texas Republicans are stopping cities from being able to govern themselves.
House Bill 2127, nicknamed the "Death Star" bill, bans a city or county from enacting laws that contradict anything in Texas state code in nine areas: agriculture, business and commerce, finance, insurance, labor, local government, natural resources, occupations, and property.
The law is so extreme that it not only prevents localities from passing their own laws, it actually overturns existing ones that may differ from state code.
Proponents say the law, which is set to take effect September 1, helps business owners to avoid having to navigate different regulations in different localities. (Won't someone please think about the "small" business owner who has the means to operate stores in San Antonio and Austin and Dallas?!)
But in practice, as The Texas Tribune notes, this law would block local ordinances providing benefits to workers like mandatory paid sick leave or water breaks for construction workers (meanwhile, heat-related deaths on construction sites have doubled in the last 10 years compared to the previous decade).
The law will also ban cities from passing new rules against predatory lending without first getting approval from the Texas legislature. That's a problem when predatory lending—like other capital-driven interests—is always innovating in how it can screw the everyday person.
And when business interests like the Texas Association of Business and Texas Construction Association applaud the legislation, you can imagine that this is all only the tip of the iceberg of things companies are ready to get away with more easily. After all, the law is so remarkably broad, many residents don't even know the extent to which other codes (already passed or in their interest to advocate for) will now be barred.
The law's leading proponents were Representative Dustin Burrows and Senator Brandon Creighton.
Burrows, an attorney, is married to someone whose family has been involved with cattle ranching and oil and gas; surely, the family will appreciate the even further weakening of agricultural and natural resource regulations. Cattle ranching is notorious for scandal and corruption—especially in Texas—while oil and gas interests have always enjoyed preferential treatment in America as they decimate our natural landscape and wildlife. The new law will make it all the easier.
Creighton, meanwhile, is the principal and owner of a real estate company, Creighton Realty Partners, and the general counsel for the real estate and development company Signorelli Company. Fortunately, any future developments the companies pursue will not have to deal with pesky regulations, like making sure the workers building the fancy buildings don't die of dehydration from sweltering heat made worse by those aforementioned hardworking oil and gas executives.
Texas is showing us what has always been the case: Conservatives' conception of "local control" just means "I control you."