Wisconsin Governor Increases School Funding for 400 Years in Brilliant Use of Veto Power
Peak chaotic good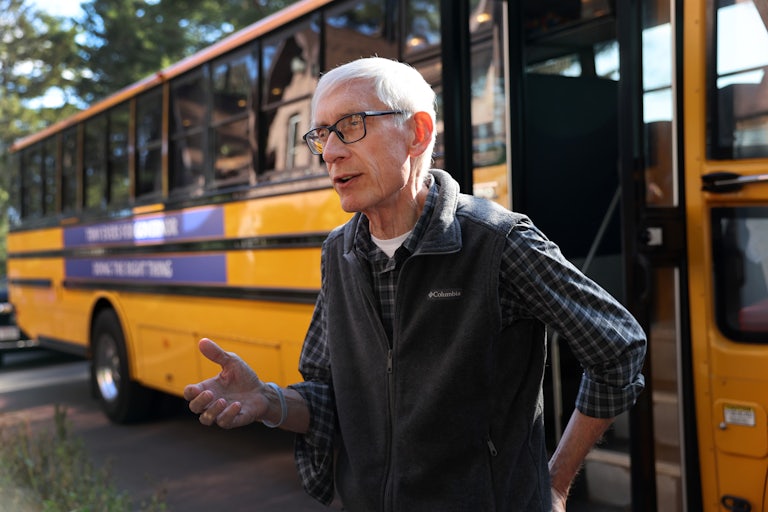 Scott Olson/Getty Images
Wisconsin Governor Tony Evers
Wisconsin Governor Tony Evers on Wednesday partially vetoed the new state budget—a move that actually guarantees funding increases for public schools for the next four centuries.
The Republican-controlled state legislature had passed a budget bill that included a funding increase of $325 per student for the 2023–2024 and 2024–2025 school years. It also implemented a $3.5 billion tax cut that would primarily provide relief to the wealthiest Wisconsinites.
But Evers, a Democrat and a former public school educator, used his line-item veto power to make about four dozen changes before signing the bill into law. First up, he struck out a hyphen and the "20" in the reference to the 2024–25 school year. As a result, Wisconsin public schools will now get an annual funding increase of $325 per student until 2425.
The bump of $325 per student is the highest single-year increase in revenue limits in state history, according to the Milwaukee Journal Sentinel. The paper said that Evers's move will create a permanent annual revenue stream for public schools, as well as potentially end a major debate between Democrats and Republicans during budget writing.
Evers also slashed the proposed tax relief. Wisconsin has four income tax brackets, the lower three of which have seen tax rate reductions in recent years. The budget pill would have condensed the brackets down to three and cut rates for all of them.
With Evers's partial veto, the four brackets remain, and the top two brackets will not see a rate reduction. The budget now only accounts for $175 million in tax cuts.
Evers's move to secure public school funding is welcome news, particularly as Republicans nationwide seem bent on kneecapping public education. State governments are gutting what can be taught and read and banning discussions of gender and sexuality and books about racism.
In June, Republicans on Capitol Hill proposed eliminating universal free school meals.