Libertarian Party Thinks It's OK to Tweet at Black People About Picking Crops
The Libertarian Party compared slavery to affordable health care in an attack on former Ohio state Senator Nina Turner.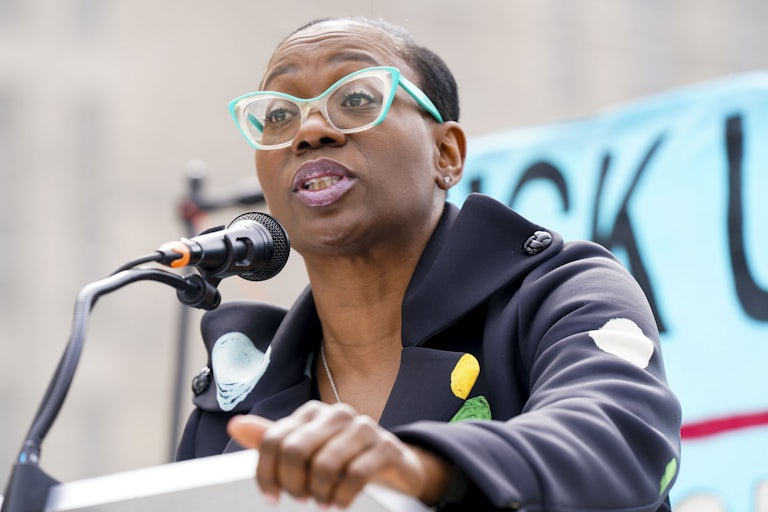 Leigh Vogel/Getty Images for MoveOn & Debt Collective
Former Ohio state Senator Nina Turner
The Libertarian Party is arguing that calling for insulin—a life-sustaining medicine for millions of people—to be free is "equally offensive" as slavery. And who prompted them to make the comparison? Former Ohio State Senator Nina Turner, who is Black.
On Tuesday, Turner tweeted, "Insulin should be free. Medicine should be free." Certainly not a radical demand for lifesaving drugs, nor more broadly in the context of 73 other countries having free or universal health care. Nor when recalling that the average cost of insulin in the United States is nearly $100; the next closest is Chile, at a little over $20; the cost in the following 31 countries ranges from $2.64 to $16.48.
But instead of even remotely engaging with any of those facts, the Libertarian Party of New Hampshire tried something different.

"Nina Turner picking crops should be free," the state party tweeted.
"'Insulin should be free' is equally offensive as calling for someone to be compelled to pick crops," the party later added, after facing an initial wave of backlash. "They are the same moral statement, and we should react to them with identical moral abhorrence," it continued, displaying the same intellectual rigor as a 15-year-old who just found a thesaurus and Jordan Peterson's YouTube channel for the first time.
But it wasn't just a rogue social media employee pushing the line.
"None of the things you advocate for are 'free'. They require labor and materials which need to be compensated for," the national Libertarian Party added. "Otherwise you are advocating for slavery. Hope this helps."
"Being black does not give you a free pass to advocate for modern slavery, just with more steps. You are not virtuous. You are covetous and evil under a veneer of respectability that would cause untold human dystopian misery," tweeted Libertarian National Convention Secretary Caryn Ann Harlos. "Spare me your outrage."
Was there any dredge of an actual claim to be recovered beneath it all? Harlos, in another tweet, seemed to distill some of the argument that "coercively taking a portion of nearly everyone's labor is just more respectable slavery."
Libertarianism tends toward a disbelief in the notion of a society, in the idea of individuals coming together to support each other in their shared, inexplicable journey on earth. But unless one proposes that everyone lives entirely separate lives, with no common bonds guaranteeing some solid standard of living—water or electricity access or transportation, for easy examples—a reasonable person ought to be able to engage in imagining what else might be part of a baseline standard of living. Like essential health care.
But with such disregard not only for the reality we are a part of but for the one that we could help create, libertarians have deluded themselves enough to make the ridiculous comparison between enslaved people being kidnapped, raped, whipped, compelled to work in the heat for hours on end and … a society that believes taxpayer dollars going toward lifesaving medicine is a good thing.