Half of Republicans Don't Think Trump Took Classified Docs. That's Terrifying.
Trump still controls the Republican Party—and they'll believe anything he says.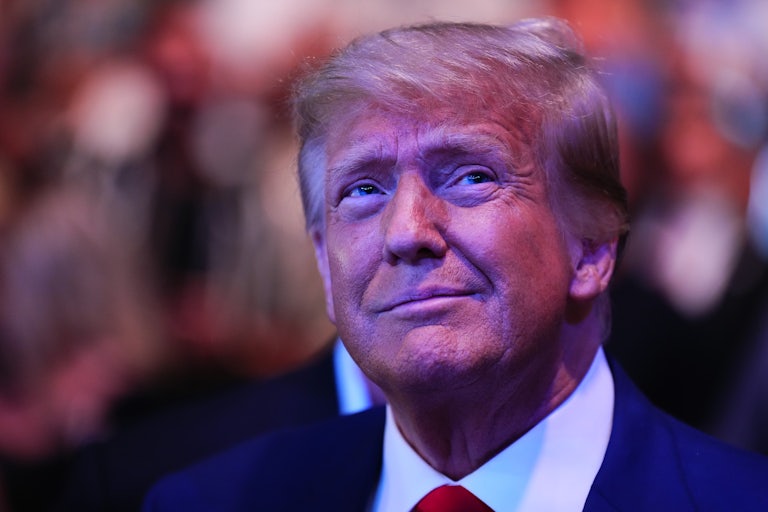 Chris Unger/Zuffa LLC/Getty Images
Donald Trump
Half of Republicans don't actually think that Donald Trump had hidden classified documents at Mar-a-Lago, a poll released Thursday found, a troubling sign that the party is still deeply in his thrall.
Trump was charged in June with 37 criminal counts of willful retention of national defense information, making false statements, and conspiracy to obstruct justices, among other things. The indictment included multiple photos of the boxes of documents that Trump hoarded at his Florida resort. He kept them stored everywhere around the property, from the ballroom to the bathroom. And there's even a public recording of him admitting he kept the classified materials.
But despite the seemingly overwhelming evidence against him, only 49 percent of Republicans actually believe there were classified documents at Mar-a-Lago, according to a new Marquette Law School survey, while 50 percent don't believe there were documents there.
Those numbers are a fortunate shift from September, when only 40 percent of Republicans believed there were documents, and 60 percent did not.
Democrats, meanwhile, have never been in doubt. The survey found that 95 percent of left-leaning voters believe classified material was kept at Mar-a-Lago, compared to 91 percent in September.
Independents are not quite as convinced as Democrats, but far more believe the indictment than Republicans. Seventy-eight percent say classified documents were present at the resort, up from 66 percent in September.
Republicans' refusal to see the facts right in front of them is a clear sign of how much influence Trump still has over the party. He is leading the pack of Republican presidential candidates by a mile, and if anything, the multiple indictments against him have made him even more popular.
This is a chilling indication of what we can expect next November. If Trump wins the GOP presidential nomination, then he will still have a solid fan base on which to draw come Election Day.
And if he does return to the White House, good luck prosecuting him for anything.