Great "Reset": DeSantis Makes Cringey Joke About Kids With Depression
When lagging in the polls, definitely make fun of kids ... said absolutely no one.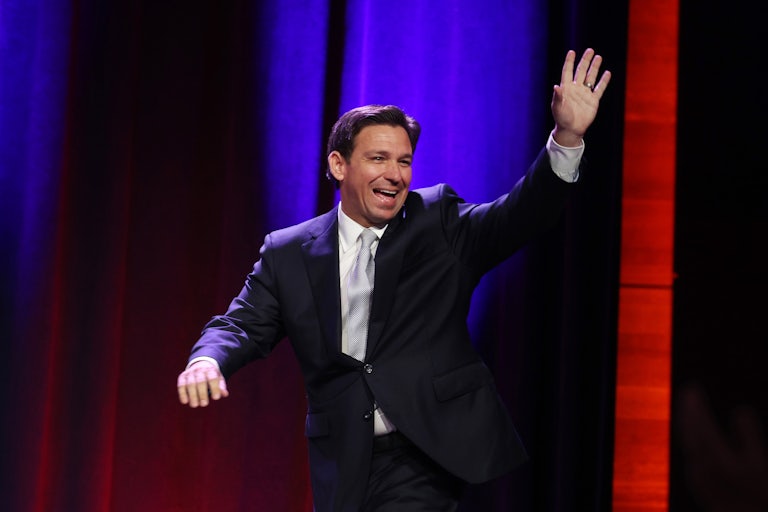 Scott Olson/Getty Images
Ron DeSantis
Ron DeSantis's latest attempt to make fun of Democrats has resulted in a cringey and incomprehensible dig at people with depression.
During an event at a coffee shop in Oskaloosa, Iowa, on Friday, DeSantis tried to demonstrate how he is overhauling the main message of his campaign. He made some biting comments about Joe Biden and slammed the (actually pretty good) state of the U.S. economy. But he ended up falling back on his old favorites: fighting "woke" culture and taking the country backward on racial justice and human rights.
At one point, a 15-year-old asked about military service restrictions on people with mental health disorders. DeSantis has been playing up his military experience—a marked shift from when he would snap at reporters who asked him about his time working at Guantánamo Bay—so you'd think he'd have some good talking points prepared.
You'd be wrong.
"I can't legally vote," the 15-year-old said, "but I struggle with major depressive disorder."
DeSantis interrupted to quip, "It's never stopped the other party from not letting you vote."
It is entirely unclear what DeSantis meant with this comment. He could be complaining about letting people with mental health issues vote, which is the same as saying someone with the flu shouldn't vote. Or he could be complaining about voting rights for minors, which does not exist. His use of a double negative makes the remark even more confusing.
(If you figure out what he's trying to say there, please let us know.)
The teenager continued talking, and DeSantis replied blandly by saying he wasn't sure what restrictions were in place but that any such rules are to ensure "whatever is best for the unit."
Despite being touted early on as the natural successor to Donald Trump, DeSantis has struggled to take off as a candidate. He's the runner-up to Trump in the polls, but by a massive margin.
In recent months, his campaign has shed more than a third of its staff and tried to pivot its messaging. Staffers have planted horrific campaign ads that attempt to show what a good conservative warrior DeSantis is but instead have backfired spectacularly. And none of this is helped by the fact that DeSantis is apparently terrible at small talk.