Ex-Trump Lawyer Jenna Ellis Is Publicly Roasting His Entire Family
After flipping against Donald Trump, she's holding nothing back.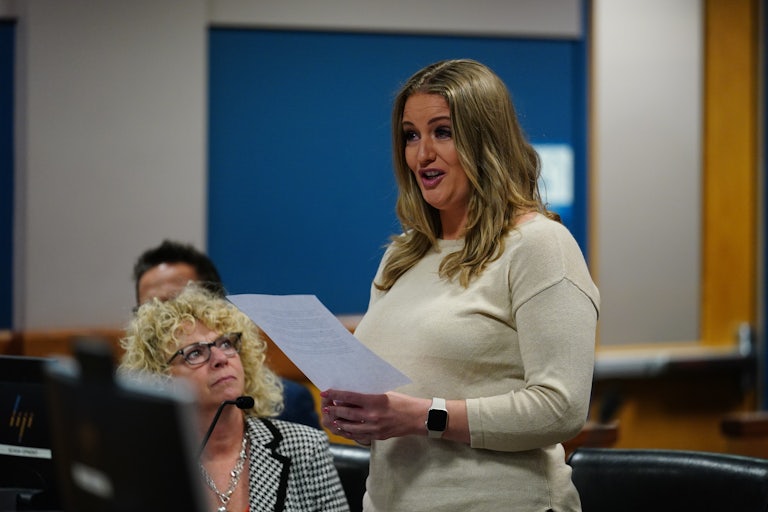 John Bazemore/Pool/Getty Images
Ex–Donald Trump attorney Jenna Ellis lashed out at her former boss, after his allies attacked her for flipping on the former president in the Fulton County case.

Ellis struck a plea deal with Fulton County prosecutors in late October, agreeing to testify against Donald Trump in exchange for a lighter sentence. Noted Islamophobe Laura Loomer, whom Donald Trump Jr. recommended as his father's next press secretary, took aim at Ellis Thursday on X (formerly Twitter). Loomer called Ellis a "waste of space" and a "fake Christian."
"Disloyal Harlots go to hell, Jenna," Loomer wrote.
Ellis came out swinging Thursday night. "Don Jr's pick for press secretary is claiming I am a 'disloyal harlot' and 'going to hell,'" she tweeted.
"No mention though of Jr's divorce, his girlfriend's divorce from Gavin Newsom, or The Best Christian Ever screwing a porn star while his third wife was pregnant."
When a commenter noted that Ellis had "turned quick," Ellis demanded, "What's not true in my post? Go ahead, I'll wait."
Everything Ellis mentioned in her tweet is true, and it was true even before she agreed to the plea deal. The difference, though, is that Ellis was not personally implicated in Trump's multiple lawsuits until now.
Leaked video of Ellis's testimony shows her providing incredibly damaging information to the Fulton County investigators. She describes how senior Trump aide Dan Scavino told her during the 2020 White House Christmas party that "the boss" intended to simply stay in office. Ellis explained that everyone knew "the boss" meant Trump.
Ellis said she pointed out that Trump had lost the election and they had lost all of their attempts to challenge the result in court. Scavino replied, "Well, we don't care, and we're not going to leave."
Trump was charged with felony racketeering in Georgia for trying to overturn the state's 2020 election results. He pleaded not guilty to all 13 charges. A big part of his defense is that he truly believed he won the election and was acting based on legal advice. Ellis's testimony could prove to be his undoing.