Even Fox News Cut Away From Donald Trump's 2024 Announcement Speech
Not once, but multiple times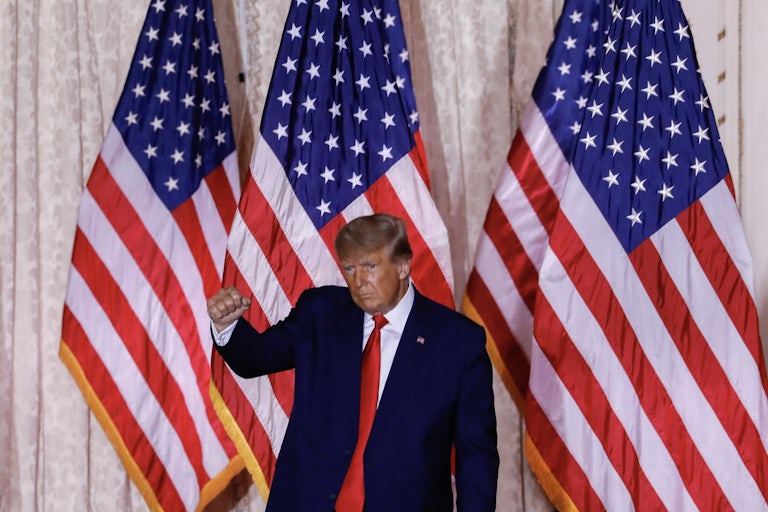 Eva Marie Uzcategui/Bloomberg via Getty Images
In a further sign the Republican establishment is souring on Donald Trump, Fox News cut away multiple times from his ill-advised presidential campaign announcement.
Trump announced Tuesday night that he would run for president a third time—a move that goes against the counsel of many of his advisers, former allies, and even the Republican Party at large.
Multiple news outlets chose to limit how much of Trump's rambling, more-than-hour-long speech they showed, but the biggest shock came when Fox News—typically a Trump stalwart—cut away about halfway through the speech.
The speech began just after Sean Hannity, a longtime Trump confidant who has appeared at several of the former president's rallies, went on air. After about 40 minutes, Hannity cut away to network commentators.
After about 15 minutes, Hannity switched back to the speech, but Fox eventually cut off Trump's closing statements in favor of starting host Laura Ingraham's talk show.
Trump still has allies: Several of the Fox commentators praised his speech, calling it "pitch-perfect" and saying the former president was "in as good a form as you've ever seen him," and Representative Elise Stefanik said last week she would support his presidential run.
But the majority of the GOP—and even the country—seems to be over it.
Trump's 2020 campaign spokeswoman Sarah Matthews called his announcement "low-energy" and "uninspiring." Former Trump White House communications director Alyssa Farah Griffin, who called Trump a "loser" on election night, quipped: "You try being high energy when you're running for President primarily to try to avoid indictment!"
In fact, the speech was so low-energy that people tried to leave early, but they were blocked by event staffers.
The New York Post, another formerly Trump-loyal outlet, kept its coverage of his speech short and to the point … and off the front page:
The announcement also comes after the midterm elections, which served as another kind of indictment on Trump's political power: Not only was there no predicted "red wave," but 34 Trump-backed candidates lost their races.
Voters were already shifting away from Trump before the GOP's disastrous midterms. A Pew Research poll found that only 60 percent of Republicans and right-leaning independents viewed him favorably, down from 67 percent in the summer of 2021.
Postelection polls show many voters are already setting their sights on a new party leader: Florida Governor Ron DeSantis.