Liz Cheney and Meghan McCain Are Straight Up Trolling Kari Lake
Kari Lake lost the Arizona governor race after repeatedly attacking Cheney and McCain Republicans.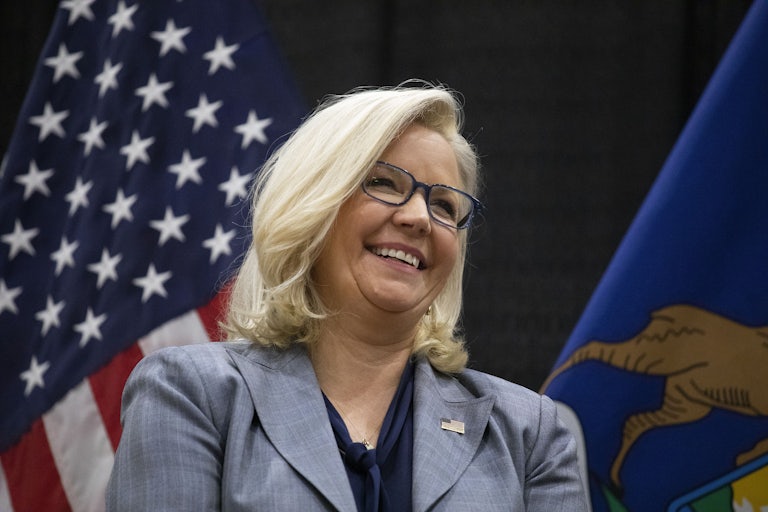 Bill Pugliano/Getty Images
It looks like the potshots Kari Lake took on the campaign trail are coming back to bite her.
People including Representative Liz Cheney and Meghan McCain, both of whom Lake insulted while running for Arizona governor, celebrated the MAGA Republican's loss Tuesday.
On the campaign trail, Lake had embraced conspiracy theories and bashed both Cheney and McCain's father, John McCain. When Cheney released an attack ad against Lake, the former Phoenix news anchor mockingly thanked her for the "anti-endorsement."
Lake had also called late Arizona Senator John McCain a "loser" and boasted after winning the primary that she and her supporters "drove a stake through the heart of the McCain machine." At one of her final rallies before Election Day, she said if there were any McCain supporters present, they should "get the hell out."
And then she lost Monday night to Democrat Katie Hobbs.
"Beautiful morning to all of you," Meghan McCain tweeted Tuesday, sharing a link to a National Review article titled "McCain Republicans Vote, Too."
She also posted a photo of her father and Lake the night before.
Cheney retweeted Lake's thank you statement and said, "You're welcome."
Although the gubernatorial race had come down to the wire, Hobbs had maintained a steady lead over Lake during the entire weeklong vote-counting process.
MSNBC reporter Vaughn Hillyard, who covered Lake for the past 18 months, was clear on why she lost.
Lake "predicated her campaign on trying to sell" Donald Trump's conspiracy that he really won the 2020 election, Hillyard said, pointing out that Arizona has "rejected Trumpism" for the past three election cycles.
She had campaigned with major Trump allies such as Steve Bannon, and promoted Trumpist messages including white supremacy and attacking election officials. And then she—and a slew of other Trump-backed candidates—lost big on election night.
Lake "was the latest one to fall, essentially making it a clean sweep," Hillyard said. "And now Donald Trump is going to go and try to run on the very message that all these people lost on."
More on the Arizona Election