Republicans Nominate Trump Favorite Kevin McCarthy as Next House Speaker
House Republicans voted 188–31 for the California representative.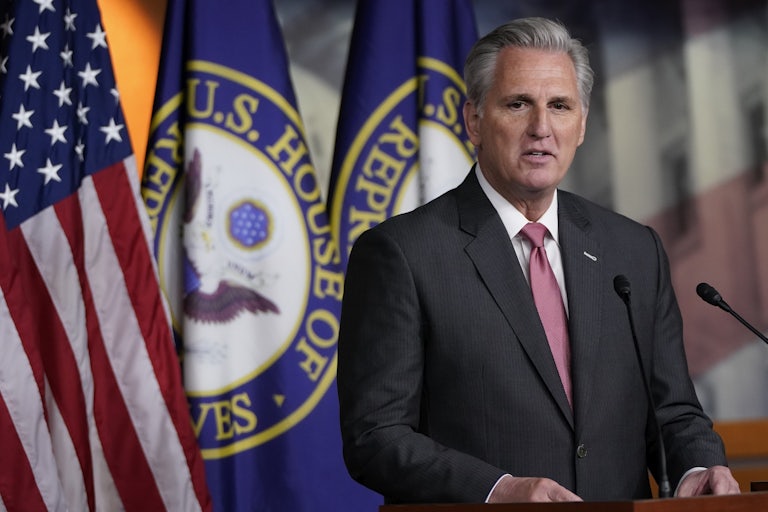 Win McNamee/Getty Images
Kevin McCarthy, a major ally of former President Donald Trump, was nominated to be the next speaker of the House on Tuesday.
House Republicans voted 188–31 for the California representative, who beat farther-right Arizona Representative Andy Biggs for the nomination.

The Republican Party is one seat away from taking control of the House of Representatives. If they do, then the full chamber will vote on whether McCarthy should be speaker on January 3, once the new Congress is sworn in. McCarthy will need a total of 218 votes to win the spot.
But it's not clear if he'll have all those votes. His own party is not unified behind him, despite Representative Marjorie Taylor Greene urging her colleagues to back him. Florida Representative Matt Gaetz told reporters McCarthy "does not have 218 votes to become speaker. I don't think he has 200."
Gaetz had previously said he would back Representative Jim Jordan for speakership, not McCarthy. Dozens of conservative leaders on Monday penned a letter calling for a delay in the House leadership vote until next month.
While 31 votes against McCarthy's nomination isn't a small number, it also isn't totally out of the norm. In November 2018, 32 Democrats voted against nominating Nancy Pelosi as House speaker.
McCarthy, the House minority leader, has made no secret of his ambitions to move up in the chamber—and he's starting to get a little desperate. The Wall Street Journal reported Monday that the minority leader's team had made several calls to Texas Democratic Representative Henry Cuellar asking him to switch parties, giving McCarthy an extra vote.
Cuellar turned them down, the Journal said, citing anonymous sources familiar with the calls.
More on the House Speaker Race