EU Threatens Sanctions After Twitter Bans Journalists: "There Are Red Lines"
After Elon Musk's Twitter banned several journalists, the European Union is threatening to introduce sanctions.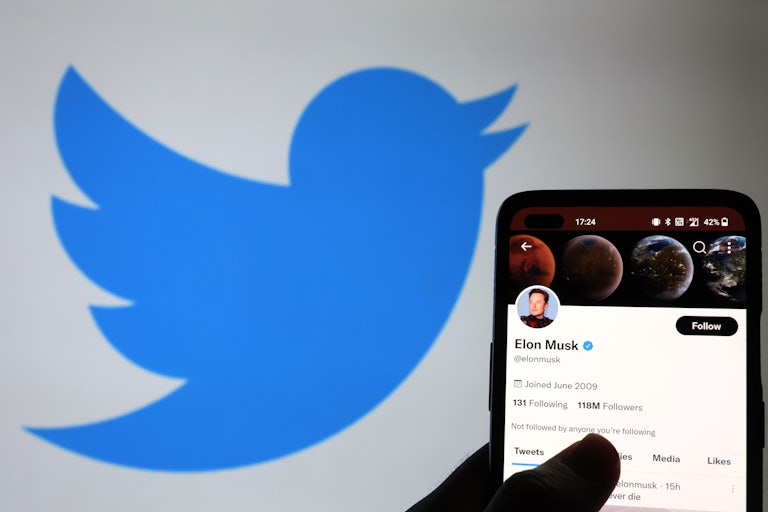 Nathan Stirk/Getty Images
Spending his Thursday banning accounts he didn't like, lying about why, and tweeting more cry-laughing emojis in response to users who support him, it was just another day for Elon Musk.
And just another day for Musk means another case of legal trouble. On Friday, Věra Jourová, the European Commission's vice president for values and transparency, put Musk on notice for his suspensions of journalists, warning that "there are red lines. And sanctions, soon."
The warning comes after Musk on Thursday banned several journalists for an unclear new standard against doxxing (one that doesn't seem concerned with, for example, LibsOfTikTok targeting schools, teachers, individuals, and children's hospitals).
On Wednesday, Twitter had suspended @elonjet, an account tracking Musk's private jet.
Musk accused the banned journalists, most of whom were reporting on this news, of "doxxing" him, or using private information to identify his real-time location.
"As I'm sure everyone who's been doxxed would agree, showing real-time information about somebody's location is inappropriate, and I think everyone on this call would not like that to be done to them," Musk said on a live Twitter Space call hosting tens of thousands of listeners Thursday night.
Musk has muddied the waters on this supposed doxxing standard, as those who reported on the @elonjet story were not explicitly sharing any real-time location data on Musk, nor is the location of a private jet necessarily connected to an individual's "real-time" location.
The Space was hosted by a handful of journalists, including now-banned Drew Harwell of The Washington Post. After Harwell pointed out that he never shared Musk's real-time location, so it's not clear why he was banned, Musk abruptly left the Twitter Space.
Soon thereafter, Musk nuked the Twitter Spaces feature entirely, cutting off the conversation journalists were having about his action. (Musk claimed it was just in response to a "Legacy bug," and that it "should be working" Friday.)
All the while, Musk faces numerous other self-imposed legal problems. Musk has garnered a San Francisco city complaint after he allegedly turned office space into bedrooms. He faces numerous class-action lawsuits related to mistreatment and haphazard layoffs of employees.

Outside of Twitter, Musk's medical device company Neuralink is under investigation for vicious animal abuse, and Tesla is under criminal investigation over the company's "self-driving" cars that keep crashing.