Don't Listen to Any of the 2024 Polls on Trump
After weeks of warnings that Trump isn't popular anymore, a new poll found that he'll win a crowded Republican primary.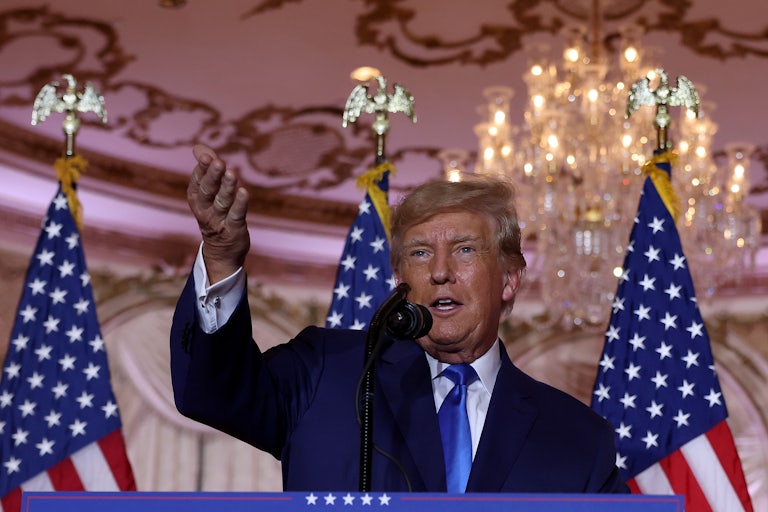 Joe Raedle/Getty Images
Donald Trump would be the preferred Republican presidential nominee in a multicandidate race, a poll published Thursday by NPR found, a sobering revelation after weeks of predictions that Trump isn't popular enough to win the next election.
The NPR/PBS NewsHour/Marist poll found that 45 percent of Republicans and Republican-leaning independents prefer Trump for the party's nominee. Thirty-three percent favored Ron DeSantis, a mere 8 percent said they liked former Vice President Mike Pence, and 11 percent said they wanted someone else entirely.
But several polls published in the past few weeks reflected a different outcome.
A Wall Street Journal poll published Wednesday found that in a race between the two, DeSantis would win 52 percent of votes to Trump's 38 percent among Republican primary voters. A Quinnipiac University poll released Wednesday found that Trump's approval rating among voters had hit its lowest point in seven years.
Only 31 percent of all registered voters viewed him favorably, although 70 percent of Republicans still like him.
Several YouGov surveys conducted in November had DeSantis leading Trump in a hypothetical primary. A poll released on December 1 showed DeSantis had dropped behind Trump, but only by six percentage points.
The results of these polls may seem contradictory, but here's the thing: Political polls aren't really good representations of what the entire country is thinking.
Such surveys tend to overrepresent people who are more active politically or in their community, according to the Pew Research Center. Polls also seek to capture how all adults in the country feel, while election results generally reflect only about 40 percent of public opinion for regular elections and 60 percent for presidential ones.

Polls massively missed the mark about the results of the 2016 and 2020 elections. For the recent midterm elections, polls consistently predicted there would be an overwhelming "red wave" that would see Republicans easily sweep control of Congress.
Instead, Democrats kept control of the Senate—even flipping a seat—and Republicans took control of the House of Representatives by just a few seats.
Which is all to say, it ain't over til it's over.