Biden Gets Republicans to Promise They Won't Cut Medicare or Social Security During State of the Union
Okay, Dark Brandon, you go.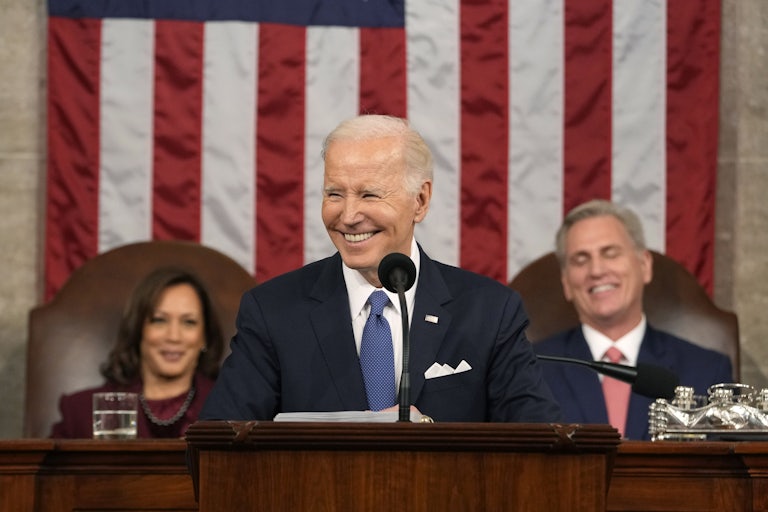 Jacquelyn Martin/AP/Bloomberg/Getty Images
President Joe Biden appeared to get Republicans to agree not to cut funding for Medicare or Social Security during the State of the Union Tuesday night.
Republicans are threatening to hold the debt ceiling hostage until the federal budget is reduced. One of their plans includes slashing funds for social welfare programs including Medicare and Social Security.
"Instead of making the wealthy pay their fair share, some Republicans want Medicare and Social Security to sunset. I'm not saying it's the majority," Biden said during his speech.
Republicans quickly cut him off with groans and shouts of, "No!" Representative Marjorie Taylor Greene shouted out, "Liar!"
Biden went off-script in response: "Anybody who doubts it, contact my office. I'll give you a copy of the proposal."
When he was greeted with more dissent, he said, "So folks, as we all apparently agree, Social Security and Medicare is off the books now, right?"
Republicans began applauding, to which he replied, "Alright, we got unanimity!"
"So tonight, let's all agree—and apparently we are—let's stand up for seniors," Biden continued. "And if anyone tries to cut social security, which apparently no one's gonna do … I'll stop them. I'll veto it."
"I'm not going to allow them to be taken away, not today, not tomorrow, not ever, but apparently it's not gonna be a problem."
The Republican Party has already indicated it wants to cut Medicare and Social Security. Senator Rick Scott has previously proposed sunsetting the programs every five years. In August, Senator Ron Johnson proposed removing Social Security and Medicare as federal entitlement programs and instead making them discretionary spending programs that Congress approves on a yearly basis.
What's more, Donald Trump tried to cut Social Security and Medicare every year he was in office. For the 2021 federal budget alone, Trump proposed slashing about half a trillion dollars from the programs.