The Most Interesting Guests at Biden's State of the Union Address
Members of Congress use guests at the State of the Union to send a message. This year, here's where their priorities are.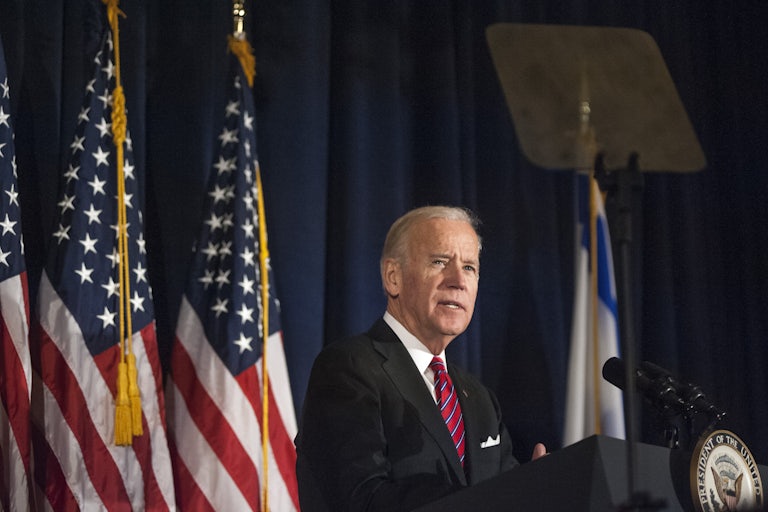 Kris Connor/Getty Images
Joe Biden will deliver his second State of the Union address Tuesday night, reflecting on a mixed bag of a year.
His Democrats delivered historic wins in the 2022 midterms, and the economy is improving, but Biden's approval ratings are still low.
Here is a list of notable guests who will attend the president's speech.
Tyre Nichols's parents
The parents of Tyre Nichols, a young Black man who was brutally beaten to death by police officers in Tennessee, will attend the speech. RowVaughn Wells and Rodney Wells were invited by Steven Horsford, the chair of the Congressional Black Caucus.
Five officers have been arrested and charged with multiple crimes, including second-degree murder. Two other officers were fired in connection with the incident.
Nichols's death has reinvigorated calls for police reform, but it's unclear if that is possible given how divided Congress is.
Brandon Tsay
Brandon Tsay, 26, disarmed the Monterey Park shooter before he could open fire on a second ballroom dance hall. He was invited to attend the State of the Union by California Representative Judy Chu. According to Chu, Biden also invited Tsay just an hour after she did.
Huu Can Tran had just attacked a ballroom in Monterey Park, California, on January 21—killing 10 people and wounding several more, one of whom would later die from gunshot wounds—when he arrived at Lai Lai Ballroom & Studio. Tsay's family owns the ballroom, and he helps run the ticket office. Tsay struggled with Tran and was able to wrest the older man's gun away from him.
Roya Rahmani
Also in attendance Tuesday night will be Roya Rahmani, who served as Afghanistan's ambassador to the United States from 2018 to 2021. The first female Afghan ambassador to the U.S., Rahmani served until July 2021, one month before the Taliban swept back to power in her home country.
Since taking control of Afghanistan, the Taliban continues to tighten its grip on the country's society, including in a huge crackdown on women's right to education and work.
Rahmani was invited by House Foreign Affairs Committee Chair Michael McCaul, who said he hoped her presence would "send a signal to the women of Afghanistan that they have not been forgotten."
Michael Brown Sr.
Missouri Representative Cori Bush invited Michael Brown Sr., whose son was killed by police in 2014, to the State of the Union.
Michael Brown Jr. was 18 years old when he was stopped outside a 7-Eleven in his hometown of Ferguson, Missouri. Officer Darren Wilson said Brown attacked him, while Brown's friend, who was there, said Wilson initiated the scuffle. Wilson ended up shooting Brown dead.
Brown's death, and later a grand jury's refusal to indict Wilson, sparked widespread unrest in Ferguson. The killing helped spur the Black Lives Matter movement.
"The police killing of Michael Brown in 2014 is what propelled me and many others into lives dedicated to building a world where Mike would still be here with us," Bush told Politico. "A world where Tyre Nichols and the thousands of other Black people killed by police could live long, healthy lives full of joy."
Amanda Zurawski
First Lady Jill Biden has invited Amanda Zurawski, a woman from Austin, Texas, who nearly died when her state's abortion ban forced her to wait for treatment for pregnancy complications.
Zurawski and her husband Josh Zurawksi first told their story in one of Beto O'Rourke's final campaign ads for Texas governor. The pair had been trying to get pregnant for more than a year before they finally succeeded. But when she was 18 weeks pregnant, Amanda was diagnosed with an "incompetent cervix," a condition that causes almost a quarter of second-trimester miscarriages. Her cervix was opening too early and putting the pregnancy at risk.
Texas, however, has banned abortions in all cases except when the pregnant person's life is at risk. Her doctors were not allowed to terminate Zurawski's pregnancy and instead had to tell her to come back when she developed a life-threatening infection. Over the next three days, Zurawski developed a bacterial infection that sent her body into sepsis. Doctors were finally able to induce the miscarriage, but she still has mental and physical health complications as a result.
The couple is clear that they blame Texas politicians for the law, not the doctors who feared the repercussions of breaking it.
Mary Kay Henry
Mary Kay Henry, president of the Service Employees International Union, will attend the State of the Union as a guest of House Minority Leader Hakeem Jeffries. Jeffries's invitation comes after Biden, who promised to be "the most pro-union president" in history, dealt a major blow to unions by calling on Congress in December to block a rail workers' strike.
Senate Majority Leader Chuck Schumer is also hoping to make a statement about labor Tuesday night: he invited Pedro Gamboa Bermudez, a baggage handler at New York's JFK Airport. Bermudez co-founded the SEIU chapter at JFK and helped negotiate the first collective bargaining agreement for the airport workers.
Michael Weinstock
A former firefighter who did rescue work at ground zero during 9/11 will attend the State of the Union—as the guest of George Santos, whose mother famously did not die in the terrorist attack.
Santos, who represents New York, has come under fire and investigation for apparently fabricating the bulk of his background and credentials. In addition to saying his mother survived 9/11 (she was not even in the country), he also seems to have lied about his grandparents fleeing the Holocaust and four of his employees being killed in the Pulse nightclub shooting.
But Michael Weinstock explained he accepted the invitation because he wants to raise awareness about the health of 9/11 responders. He suffers from a neurological condition as a result of his time as an emergency worker.
"I'm cautiously optimistic that I'll be able to stay focused enough on the issue of 9/11 responders receiving the health care that they need without being sullied by George Santos," he said.
Sheriff Jeff Smith
New York Representative Elise Stefanik will bring Jeff Smith, a sheriff for one of the counties she represents, to the State of the Union.
Stefanik, who has remained one of Donald Trump's most loyal supporters in Congress, said she had decided to bring Smith to make a point about rising crime in the United States, which she blames on "Joe Biden's failed policies."
The nonprofit Brennan Center for Justice has said that the rise in crime during 2020 and 2021 was due in part to the proliferation of guns—which Republicans such as Stefanik routinely refuse to restrict—and the extreme socioeconomic instability brought on by the Covid-19 pandemic. Data for 2022 is limited but indicated that violent crime did go down that year.
This post has been updated.