Congress Leaves Afghan Refugees Out of Year-End Deal
Tens of thousands of Afghan evacuees could be forced to leave the U.S. next year after being cut out Congress's new spending compromise.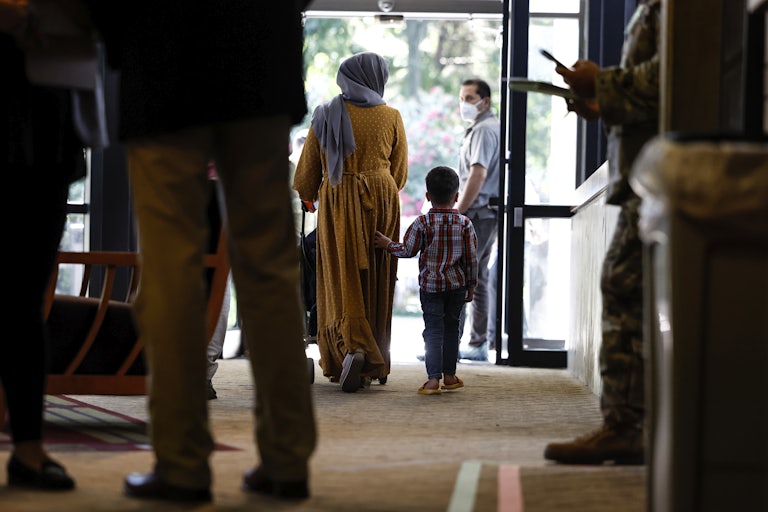 Anna Moneymaker/Getty Images
A mother and her son walk through the National Conference Center in Leesburg, Virginia, which has been redesigned to temporarily house Afghan nationals, in August.
Although the omnibus package of bills to fund the government expands the number of special immigrant visas to Afghan allies still trapped in Afghanistan, it does not address the plight faced by tens of thousands of Afghan evacuees settled in the United States: They do not currently have a pathway to permanent residency, and their eligibility to remain in the country expires in August 2023.
Veterans' groups and human rights organizations had been hoping that the Afghan Adjustment Act would be included in the omnibus. The bipartisan bill would have provided additional vetting for Afghans already in the U.S.—a priority for Republicans—and then offered a path to permanent residency. However, the bill was dropped from the omnibus that was released Monday night, in large part due to opposition from GOP Senator Chuck Grassley, who worried that vetting requirements were insufficiently stringent. When I asked Senator Chris Coons of Delaware on Tuesday why the measure had been dropped from the omnibus, he succinctly replied: "Ask Chuck Grassley." Coons had spearheaded the effort to pass the legislation in the Senate.
"I'm hopeful that in the next Congress, we can take this up and move it quickly," Coons told reporters on Tuesday. "I am hearing from Afghans in Delaware regularly that this harms their ability to find employment, find housing, get access to health care, [and] really fully engage in life in the United States. And I think we're at risk of not honoring those who served alongside us for 20 years."
Advocates are pressing for the Afghan Adjustment Act to be added to the omnibus as an amendment, but it's unclear if that could receive sufficient support from Republicans. Meanwhile on Tuesday the Taliban announced that all women are now banned from attending universities in Afghanistan.
More on How Congress Left Afghan Refugees Behind