The Michigan State University Shooting Is the 67th Mass Shooting This Year
There have been more mass shootings than there have been days in 2023.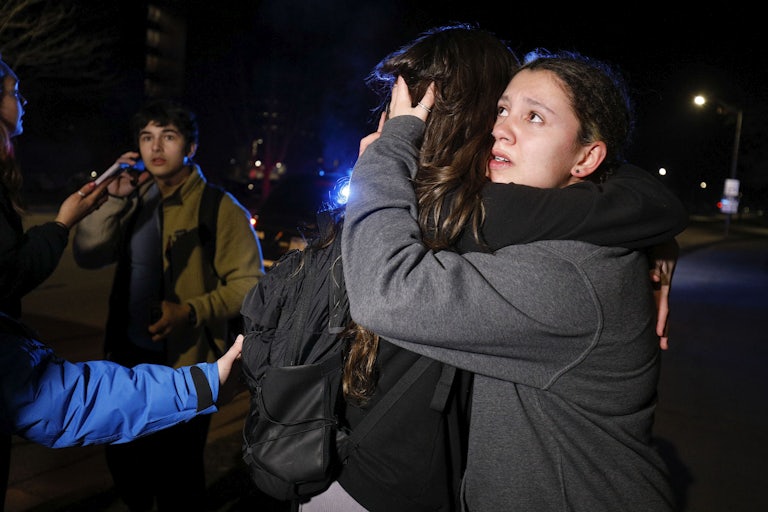 Bill Pugliano/Getty Images
Michigan State University students hug during an active shooter situation on campus on February 13.
The tragic shooting at Michigan State University is the sixty-seventh mass shooting in the United States this year, according to the Gun Violence Archive.
A gunman opened fire on the campus in East Lansing, Michigan, on Monday night, killing three people and wounding five, who are hospitalized in critical condition.
There have been more mass shootings than there have been days in 2023.
Campus police said the suspect, a 43-year-old man, was not affiliated with MSU as a student or employee, and they do not yet know why he targeted the school. He died of a self-inflicted gunshot wound on Monday night.
"This truly has been a nightmare that we are living tonight," MSU Police Interim Deputy Chief Chris Rozman told a press conference.
"We have no idea why he came to campus to do this," Rozman said at a separate press briefing. "We have absolutely no information about what the motive was, and I can't even imagine what the motive may be."
This is Michigan's second school shooting in about a year. In November 2021, a 15-year-old student in the town of Oxford opened fire on his high school, killing four classmates and wounding six others and a teacher. He pleaded guilty in October 2022 to 24 criminal charges, including terrorism causing death and first-degree murder. Some of the students who survived the Oxford High shooting experienced that trauma again Monday night.
Michigan Governor Gretchen Whitmer has repeatedly called for increased gun control, most recently in her State of the State address on January 25.
"The time for only thoughts and prayers is over," she said during the speech. "And I want to be very clear—I'm not talking about law-abiding citizens."
"Hunters and responsible gun owners from both sides of the aisle know that we need to get these commonsense gun safety proposals across the finish line."
She decried the shooting early Tuesday, highlighting the "uniquely American" nature of mass shootings.

But gun regulation is a highly contentious issue in the U.S., where Republican lawmakers repeatedly block attempts to pass gun control legislation. The Supreme Court ruled last year that Americans can carry handguns for self-defense, making it easier to acquire concealed-carry permits nationwide. Meanwhile, a gun manufacturer recently brought back the "JR-15," a child-size AR-15 rifle.