The Latest Wrinkle in Republicans' Quest to Ban the Abortion Pill
A new lawsuit against the FDA seeks to preserve access to the pill, regardless of what the lower courts have said.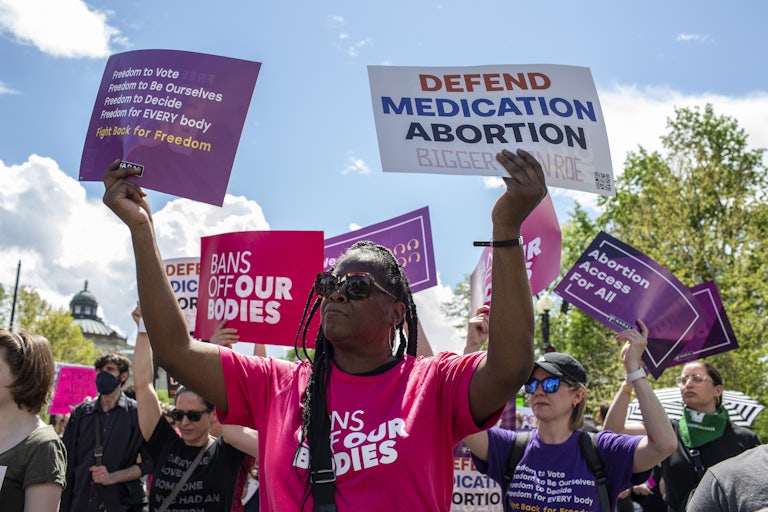 Probal Rashid/LightRocket/Getty Images
The maker of the generic version of the abortion pill mifepristone sued the Food and Drug Administration on Wednesday in an effort to keep the drug accessible nationwide.
A complicated legal battle over mifepristone is playing out in the U.S. judicial system. A Texas federal judge ruled two weeks ago that the drug, one of the medications used to induce an abortion, had been improperly approved by the FDA and should be yanked from the U.S. market. The Department of Justice appealed the decision, first to the Fifth Circuit Court, which only partially stayed the ruling. The Justice Department then appealed the case to the Supreme Court, which issued a temporary administrative stay.
The Fifth Circuit's ruling, if upheld, will judicially nullify the Abbreviated New Drug Application, or ANDA, for the pills made by GenBioPro, which the FDA approved in 2019. GenBioPro says its pills are used in about two-thirds of the 500,000 medication abortions that happen in the United States each year.
GenBioPro sued the FDA for indicating in court filings that if the Supreme Court does not intervene, then the agency will abide by the lower rulings and pull GenBioPro's drug from the market. The company argued that doing so would violate laws about the process for withdrawing a drug's approval.
"In addition to the severe harm to GenBioPro's commercial viability from suspension of its ANDA, catastrophic harm also results to members of the public, including doctors and patients, who have developed extensive reliance interests in the approval and availability of GenBioPro's mifepristone," the company said in the lawsuit.
GenBioPro also said that it has repeatedly asked the FDA for assurances that its approval status will be protected, but the FDA has not responded. "Because of the FDA decision and the enforcement threat and uncertainty it has created, GenBioPro is suffering irreparable financial and reputational harm, severely threatening its core business model and commercial viability," GenBioPro said.
The GenBioPro lawsuit is an attempt to keep mifepristone available, regardless of whether the Supreme Court decides to stay or uphold the lower court rulings. The nation's high court is expected to issue a decision Wednesday.
Medication abortions make up more than half of all abortions performed in the United States. These drugs can be ordered online and delivered via mail, making them a key resource for people who live in states that have cracked down on abortion access since Roe v. Wade was overturned last summer.