Nancy Mace Says Republicans Are the "Feminists of Today" With Anti-Trans Bill Passage
This is not how feminism works, Nancy.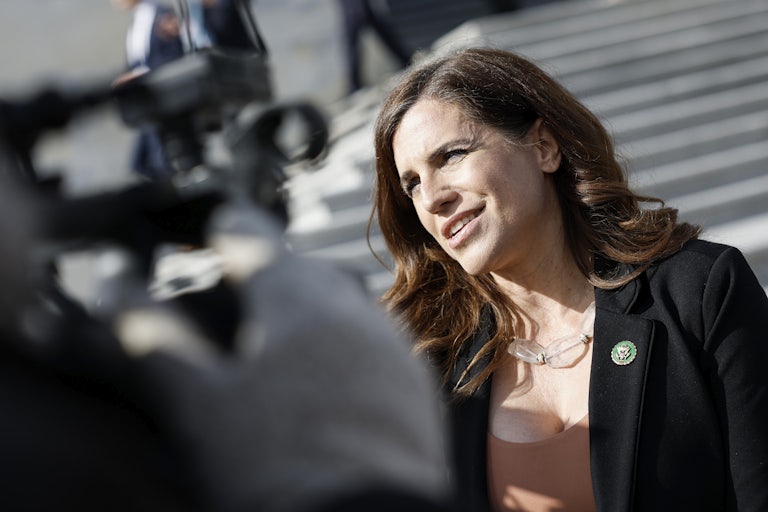 Anna Moneymaker/Getty Images
Republican Representative Nancy Mace thinks her party is the new wave of feminists because it passed a bill banning transgender women and girls from women's sports.
The House of Representatives passed a bill Thursday that would amend Title IX, a civil rights law that bans sex- or gender-based discrimination, to limit a person's sex to the one they were assigned at birth. The measure passed entirely along party lines and is not expected to pass the Democratic-controlled Senate.
At one point during the debate, Mace suggested that Republican support for women's equality in sports (except for trans women) makes them "the feminists of today."
"As a woman who is pro-LGBTQ, I don't care how you dress, I don't care what pronoun you take, I don't care if you change your gender, but we ought to protect biological women and girls in their athletics," she said.
Mace suggested another amendment to conduct a study of the supposed adverse psychological effects on cisgender women and girls of letting trans women play women's sports.
Democratic Representative Mark Takano clapped back that nothing is "further from the truth."
"This amendment perpetuates false arguments that allowing transgender girls to participate in school sports teams will undermine the well-being of cisgender girls," he said.
Democrat Pramila Jayapal pointed out that the only way for schools to enforce this rule would be to conduct genital exams on students.
Mace is rapidly becoming a classic "pick-me girl." She keeps trying to show she's not like other Republicans, even denouncing them to stand out from the crowd. Mace has repeatedly urged her party to adopt a more centrist stance on abortion rights. She also said she would oppose kicking Ilhan Omar off the House Foreign Affairs Committee.
But at the end of the day, she voted with Republicans every time.