Did Tim Scott Intentionally Kill Police Reform So He Could Run for President?
The only Black Republican senator seemed worried about politics when he scuttled what could have been bipartisan legislation, a new book says.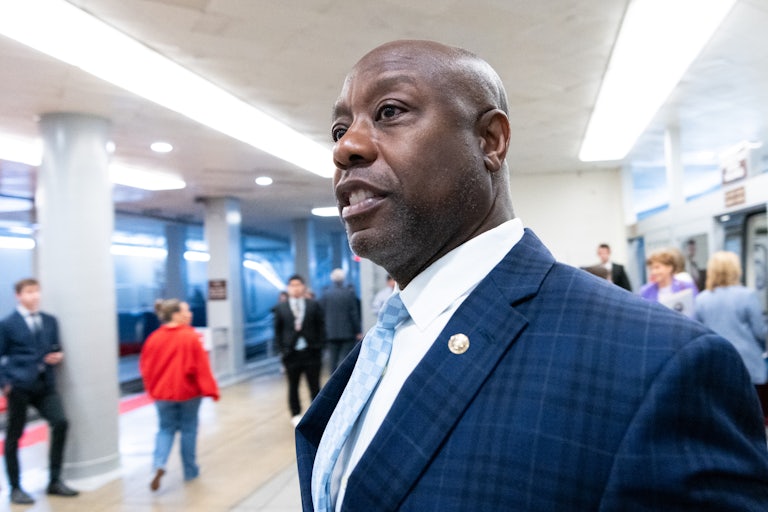 Bill Clark/CQ-Roll Call, Inc/Getty Images
Tim Scott has positioned himself as the Republican most serious about police and civil rights reform. But it turns out he may have sabotaged a (very moderate) police reform bill he and Senator Booker worked on in 2021, perhaps in preparation to run for president.
The revelations come from Ben Terris's new book The Big Break, in which he traces efforts between the two cross-the-aisle Black senators to work together and craft a police reform bill. In 2021, Scott's office told Booker's that if they could get some support from police organizations, they "would be able to get enough Republicans to pass the thing," Terris writes. And soon, Senator Booker reached a police reform package that did indeed earn potential support from two police organizations—the Fraternal Order of Police and the International Association of Chiefs of Police—so long as Republicans could agree to the same text they had seen.
Booker's team took the bill to Scott's office.
But shortly after Scott's office received the bill, a copy was curiously leaked to the National Sheriffs' Association. Then, Terris writes, "With the Sheriffs' Association as a shield, Scott rejected the offer. Even though the bill would have added millions of dollars to police department budgets, he accused Democrats of wanting to 'defund the police,' something that almost no one in Congress had been saying for months."
The turn of events came as a surprise to Booker's team. "It made [them], and other Democrats, pretty sure that Scott hadn't been serious about passing legislation for quite some time… In fact, there were some on Booker's team who had come to believe that Scott didn't want to have a police reform bill weighing him down if he ever decided to run for president."
Scott's office did not respond to The New Republic's request for comment.
In 2020, Scott did introduce his own police reform bill, called the JUSTICE Act, crafted in the aftermath of the murders of George Floyd by Minneapolis officer Derek Chauvin and Breonna Taylor by Louisville police officers Jonathan Mattingly, Brett Hankinson, and Myles Cosgrove.
That bill actually did threaten to defund the police, if local departments were found not to be compliant with policies like banning chokeholds, stopping no-knock warrants for drug cases, and eliminating racial profiling practices.
"Our bill says that we will defund the departments if they don't ban chokeholds," Scott said in a Facebook live event in June 2020.
The bill failed after it met opposition, in part because it didn't deal with qualified immunity, which protects officers from being held accountable for violence or misconduct against the people they're supposed to protect.
Fast forward years later, and police are indiscriminately arresting and even murdering people protesting police brutality and environmental degradation; killing a migrant worker who just wanted to finish his shift after being fired; and arresting journalists covering protests against the brutal murder of a homeless person.
Meanwhile, last month, Scott joined all his Republican colleagues, and eight Democrats and independents, in voting to overturn Washington, D.C.'s police reforms that would have banned chokeholds and made body camera footage of officer-caused deaths, or serious uses of officer force, more accessible to the public.
Such is the spineless legacy Scott apparently brings to his almost-certain-to-lose presidential campaign.
Pablo Manríquez contributed reporting to this story.