Facing Climate Unrest, Biden Makes Low-Key Pitch in California
Much of his speech was spent taking a victory lap for defending climate investments in the IRA from Republicans.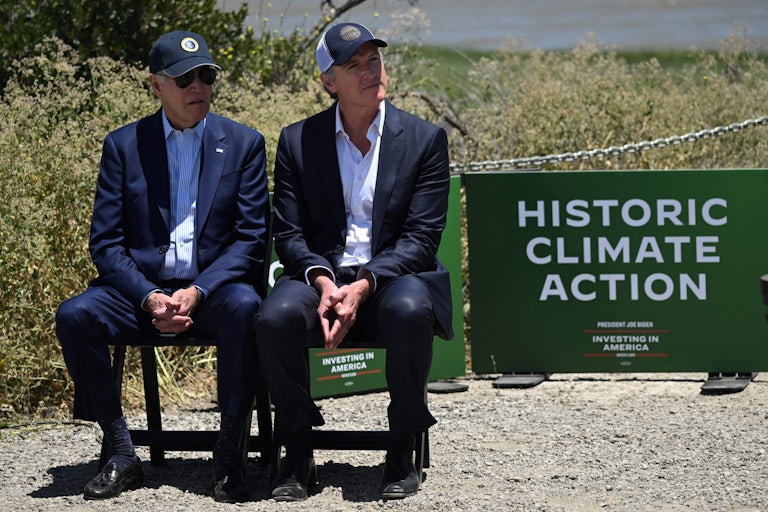 Andrew Caballero-Reynolds/AFP/Getty Images
President Joe Biden and Governor Gavin Newsom listen to a speaker before Biden's speech on his administration's environmental efforts at the Lucy Evans Baylands Nature Interpretive Center and Preserve in Palo Alto, California, on June 19.
Joe Biden—now campaigning in earnest for president—made a pitch to climate voters on a windy stretch of California wetland on Monday. The headline announcement was a new $600 million effort, to be administered by the Commerce Department, for coastal communities to weather rising sea levels, storm surges, and tidal hurricanes. Another $67 million is being allocated for upgrades to the electrical grid in California, where investor-owned utility PG&E has been found responsible for a number of deadly fires over the last several years.
"Resiliency matters," Biden said in a short, muted speech at the Lucy Evans Baylands Nature Interpretive Center and Preserve in Palo Alto. "I've toured many sites across the country that clearly show climate change is the existential threat to humanity."
Much of his time at the podium was spent listing off climate-related investments provided for by the Inflation Reduction Act and Bipartisan Infrastructure Law, taking a victory lap for having defended the former from recent Republican attacks.
"We didn't just protect some of the climate money and clean energy provisions. We protected every single solitary one," Biden said.
Climate voters aren't the only people Biden is trying to win over in the Golden State: Biden seems particularly eager to court Bay Area tech magnates, per reports about his West Coast visit. It's possible he was reserving his energy this afternoon for the full stack of fundraisers filling out the rest of his schedule there. Later today Biden is scheduled to attend a $6,600-per-head reception at the Atherton home of venture capitalist Steve Westly and his wife, Anita Yu. Biden will also meet LinkedIn co-founder Reid Hoffman and Microsoft CTO Kevin Scott, along with prospective donors in climate tech and private equity.
Last week, the president secured early 2024 endorsements from some of the country's biggest green groups: the League of Conservation Voters, the Sierra Club, the Natural Resources Defense Council, and NextGen America. Despite the inarguably historic passage of the IRA last year, which marked America's first major climate-related spending package, he may have to do more to win over climate voters angered by the White House's support for fossil fuel projects ranging from the Mountain Valley Pipeline—bolstered by the recent debt ceiling deal—to new liquefied natural gas export facilities, drilling in Alaska, and a gas pipeline in Japan.
Recent polling from Data for Progress found that 48 percent of likely voters under 34 are somewhat or much less likely to vote for Biden because of his "approval of new oil and gas drilling projects on public lands, such as the Willow project in Alaska." Hours before Biden's speech, protesters attempted to interrupt Energy Secretary Jennifer Granholm during an event in Michigan. "No MVP, no LNG, Granholm you are killing me," activists with the group Climate Defiance chanted before being ejected from the hotel where Granholm was speaking.