Marjorie Taylor Greene May Not Be Crazy Enough for the Freedom Caucus
Some members of the hardline group reportedly want to dump her for the heinous crime of getting along with leadership.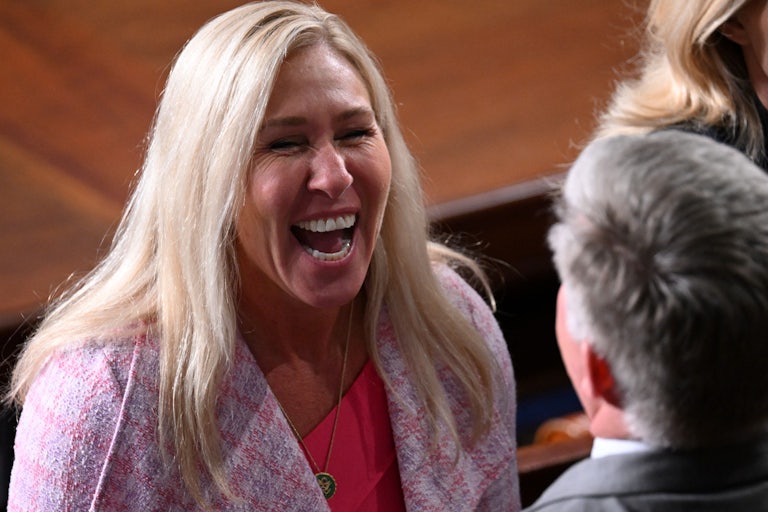 MANDEL NGAN/AFP/Getty Images
Some members of the House Freedom Caucus would reportedly like to liberate themselves from Marjorie Taylor Greene.
At least two legislators in the hardline group have floated the idea of ousting members for insufficient ideological purity, Politico's Olivia Beavers reported Friday. "While the members suggesting a purge did not specify the people they want to remove, they are signaling that [Greene is] one target of any ejection push," Beavers writes.
Greene, of course, is a representative from Georgia by way of QAnon. She has embraced and spread lunatic conspiracy theories, including that various mass shootings have been hoaxes, that there's no evidence a plane crashed into the Pentagon on 9/11, and that Jewish space lasers started the 2018 California wildfires. House Democrats, along with 11 Republicans, voted to remove her committee assignments almost as soon as she arrived in Congress for her threats of violence against Democratic lawmakers. Just this week, she made headlines for calling fellow QAnon devotee Lauren Boebert a "little bitch" while on the floor of the House, apparently the result of a disagreement over who might get the credit for forcing a pointless vote on impeaching President Joe Biden.

So what transgression prompted some of her fellow Freedom Caucusers to finally conclude that Greene is beyond the pale and not deserving of membership in their band of bothers?
"Some in the Freedom Caucus have focused on Greene, who's become a close ally of Speaker Kevin McCarthy, to illustrate their fears that certain group members are too aligned with GOP leaders and too outwardly critical of the group when it splits on certain issues," Beavers reports.
The Freedom Caucus comes from the knee-jerk-no, poseur wing of the Republican Party, perpetually more interested in policing political purity than in governing or actually advancing conservative causes. They're more likely to primary wayward Republicans than actually flip Democratic seats—and in fact their favored issues tend to give swing-district GOPers the politically toxic choice of angering primary voters or general election voters. In 2021, its members wanted then-Representatives Liz Cheney and Adam Kinzinger tossed out of the Republican Conference for daring to sit on the January 6 committee.

But if they're able to expel Greene it would mark a new level of conservative cannibalism. Hey, maybe QAnon, from whom Greene finally distanced herself earlier this year, will take her back. As for her hardline colleagues, their conception of freedom increasingly evokes Thomas Hobbes. Maybe they should change their name to the Solitary, Poor, Nasty, Brutish, and Short Caucus.