Guess Who's Targeted in Ron DeSantis's First Major Policy Address?
LGBTQ people? Authors of banned books? Those seeking abortions? Close, but not quite.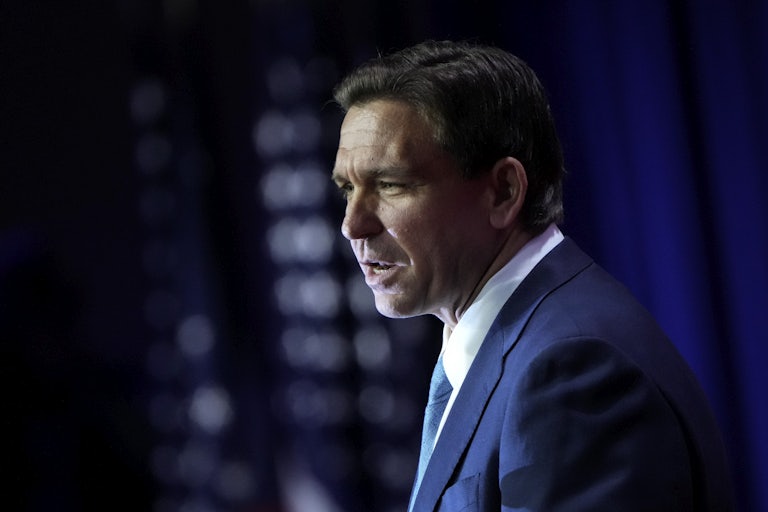 Drew Angerer/Getty Images
Florida GOP Governor Ron DeSantis gave his first major policy address as a presidential candidate on Monday. The economy? Tax cuts and deregulation? How to revive manufacturing? How we're all part of one glorious shining city on a hill?
You haven't been paying much attention to the governor if you thought any of those things. The nominees for topic of his first presidential policy address were, of course, LGBTQ people, librarians, teachers, those seeking and providing abortions; but the lucky winner this morning? Undocumented immigrants.
In a nutshell, DeSantis is promising to be worse than Donald Trump on immigration.
According to CNN, DeSantis, who spoke at a Veterans of Foreign Wars post in Eagle Pass, Texas, vowed to dispatch the military to the border and commence a "mass detention and deportation" (CNN's words) of undocumented immigrants. He also pledged to end birthright citizenship and, yes, Build. The. Wall.
"For decades, leaders from both parties have produced empty promises on border security, and now it is time to act to stop the invasion once and for all," DeSantis said. "As president, I will declare a national emergency on day one and will not rest until we build the wall, shut down illegal entry, and win the war against the drug cartels. No excuses. We will get it done."
His camp also took one of its first shots at Trump over the weekend by tweeting: "Trump ran on this same promise in 2016, but ended up deporting fewer illegals than Barack Obama."
As governor, DeSantis has banned sanctuary cities, sent Florida law enforcement and National Guard officers to the Texas border, and cracked down on workforce immigration violations. And of course there were his famous stunts where he sent undocumented immigrants by plane to Martha's Vineyard and Los Angeles to troll the libs.
So this will be the heart of DeSantis's campaign, although presumably LGBTQ people and librarians and abortion-seekers will all have their day in the Sunshine State sun, as it were. That is, assuming his campaign lasts long enough. He's slipping in the polls against Trump, and Politico posted a piece Monday morning about a serious political etiquette gaffe he pulled in New Hampshire that offended those notoriously delicate Granite State "how things are done" sensibilities (he scheduled an event there at the same time as a previously scheduled Trump event, in front of some kind of important Republican women's group).
So maybe the people he's targeting don't need to be so scared.