Saudi Arabia Just Took Over Golf. Is Soccer Next?
The brutal kingdom had a very good, if not perfect, week.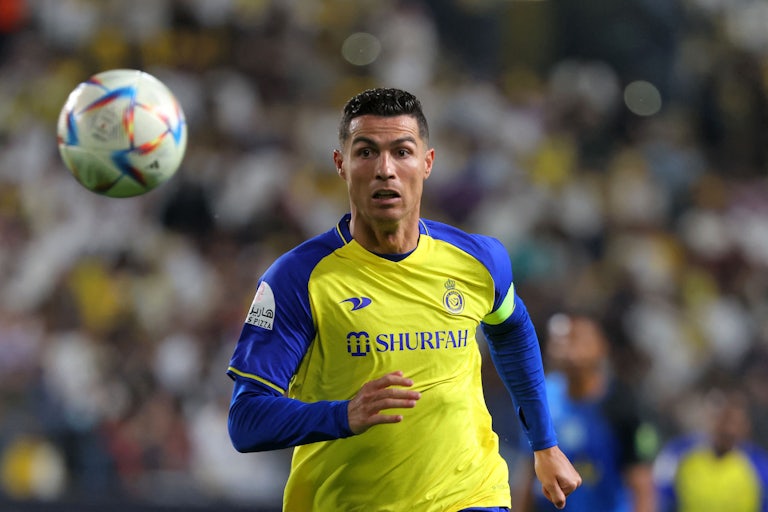 Photo by FAYEZ NURELDINE/AFP/Getty Images
The Lion in Winter (Cristiano Ronaldo playing in Saudi Arabia in March)
This was supposed to be a perfect week for Saudi Arabia, but it only ended up being a very good one. Taking over pro golf, which Saudi Arabia literally did on Tuesday, is a pretty good achievement—even though the deal will likely face antitrust scrutiny. (They did, after all, literally take over golf.) But the controversial kingdom also took its biggest steps yet to taking over soccer.
Wooing Cristiano Ronaldo with a $200 million annual salary in January was only one small part of the Saudis' larger plan. Newcastle United, the English Premier League team the country's sovereign wealth fund owns, will play in the Champions League next season. And since the conclusion of the European leagues, Saudi Arabia has splashed money around, wooing players to its domestic league. Karim Benzema, Ronaldo's former teammate at Real Madrid, will play for Al-Ittihad; the brilliant, diminutive, oft-injured N'Golo Kante will join him there as well. On Monday, Saudi Arabia's ruthless dictator Mohammed bin Salman announced that the state's Public Investment Fund—which he definitely does not control—will take over the state's four biggest teams. Saudi Arabia, in other words, is trying to become a huge player in global soccer. They only just missed out on their crown jewel.

Lionel Messi, soccer's greatest ever player, who rebuffed the kingdom at the last minute on Wednesday, announcing that he would be spurning what likely amounted to more than a billion dollars to spend his twilight years in Saudi Arabia to instead take (probably) far less money in a far more convoluted deal to play in Miami. Messi is serving as a "cultural ambassador" for Saudi Arabia and is seen as a key cog in its effort to win the 2030 World Cup; his decision to spurn its offer was seen as a slap in the face. It was also a reminder that for all the money Saudi Arabia is kicking around, it is still a long way from becoming a major player in soccer.

Saudi Arabia has vast account surpluses and is investing heavily in sports as part of its efforts to launder its dismal human rights record—and as a way of transitioning its economy. It desperately wants the 2030 World Cup and is doing everything that it can to win it—and will spend billions to bring European stars to its domestic league.
It has already made huge strides in the world of golf and boxing, in particular. But it's clear that the globe's most popular sport is next. Bringing in soccer's biggest stars—though many are well past their prime—may simply be part of the larger push to secure the 2030 World Cup. And yet Saudi Arabia's ambitions seem to surpass hosting one global tournament. The larger effort is toward something like LIV Golf but for soccer. As with LIV, the Saudis are using their competitive advantage—they can pay many players exponentially more than many European clubs can—to build an empire. The next step will be taking on the global soccer elite directly.