FBI Director Brags About Recruitment in States Where Republicans Attack Him
Christopher Wray cited numbers at the Republicans challenging him.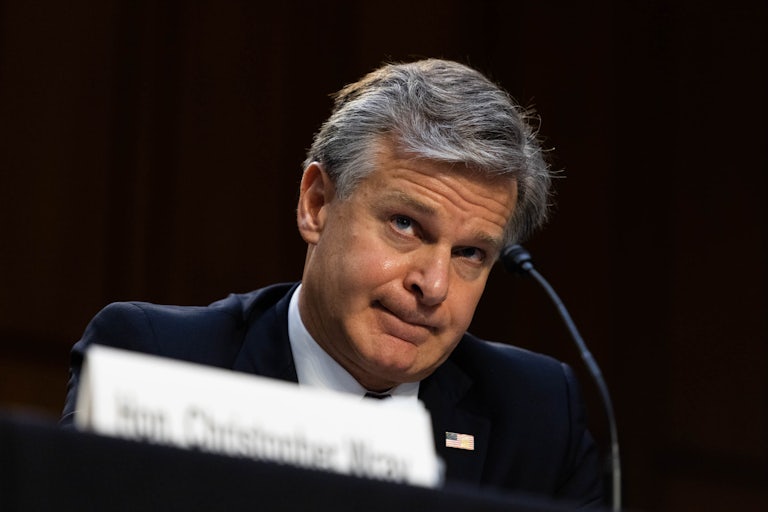 Graeme Jennings - Pool/Getty Images
FBI Director Christopher Wray had a simple response for Republicans who insisted that Americans think the bureau has become far too politicized: applicants for FBI jobs from their states are up. A lot.
Wray testified before the House Judiciary Committee on Wednesday, where he faced repeated questions from angry Republicans about whether the FBI targets the GOP, specifically former President Donald Trump. Wray, of course, denied their accusations, which prompted several lawmakers to insist that his stance is why no one trusts the FBI anymore.
"People trusted the FBI more when J. Edgar Hoover was running the place than when you are," Florida Representative Matt Gaetz charged. "And the reason is because you don't give straight answers."
"It appears as though you're whitewashing the conduct of corrupt people," Gaetz said, referring to Republicans' repeated and as yet fully-unproven claims that the Biden family has accepted bribes.
"Respectfully, congressman, in your home state of Florida, the number of people applying to come work for us … is up over 100 percent since I started," Wray replied.
"We're deeply proud of them, and they deserve better than you," Gaetz snapped at the Trump appointed-FBI director.
Later, Texas Representative Wesley Hunt cited an NBC poll that found only 37 percent of Americans have a positive view of the FBI. "I think I know why," Hunt said. "Here's what the American people know and believe about the FBI today, sir. If you are a Trump, you will be prosecuted. If you are a Biden, you will be protected. And the American people that I represent are sick and tired of this double standard."
"I worry less about NBC polls or polls by any other news outlet," Wray said. "But I will tell you that the number of people in Texas applying to work for us since I've been in this job has gone up 93 percent. In fact, we have more applicants from the state of Texas annually in the last several years than any other state in the country."
"That makes sense, because Texas is the greatest state in the country," said Hunt.
"I think that speaks very well of the view of Texans about the FBI," Wray concluded.