RFK Jr. Campaign's Crazy New Low: Strategic Farting by Climate Denialist
"I'm farting!" yelled the man, as he in fact farted in the middle of the press dinner.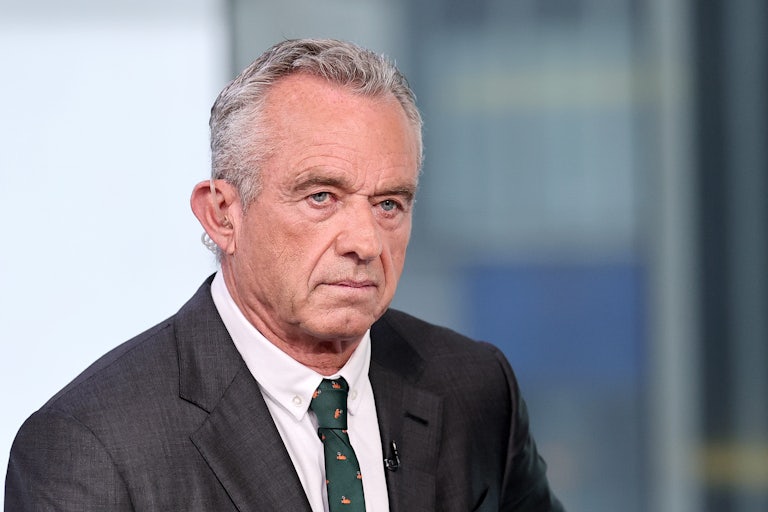 Jamie McCarthy/Getty Images
Robert F. Kennedy Jr.

Turns out Robert F. Kennedy Jr.'s campaign is just full of hot air.
On Tuesday, the presidential candidate attended a press dinner on the Upper East Side of New York. But as Page Six reported, what began as an attempt to boost RFK Jr.'s campaign "descended into a foul bout of screaming and polemic farting."
The magazine writes that an event guest had asked Kennedy about the environment. And that's all it took to provoke "apparently drunk gossip columnist-turned-flack Doug Dechert, the host of the event," who in a spurt of fury screamed: "The climate hoax!"
And that was then enough to wake up apparently "sleeping happily" art critic Anthony Haden-Guest, who all of a sudden opened his eyes and called Dechert a "miserable blob."
"Shut up!" he barked at Dechert.
And chaos ensued. The duo rallied back and forth; Dechert continued on his soused rant, while Haden-Guest berated him as "f–king insane," and "insignificant."
Throughout it all, Page Six notes, Kenndy sat back and watched calmly—perhaps seeing value to both sides of the discourse.
But the stalemate apparently was unsatisfactory for Dechert. Page Six writes that "Dechert sensed the need for a new rhetorical tack, and let rip a loud, prolonged fart while yelling, as if to underscore his point, 'I'm farting!'"
The whole room was stunned, unsure about what to do, and whether the plastered host was letting one loose at Haden-Guest, or at the concept of global warming generally.
"Regrettably, we may assure readers that there was no room for doubt that the climate changed in the immediate environs of the dinner table," Page Six noted.
Kennedy kept his about-face, as another guest soon tried to change the subject. Nevertheless, another round of yelling was sparked right after, the longtime contemporaries going at each other once again.
On Wednesday, Dechert told Page Six "I apologize for using my flatulence as a medium of public commentary in your presence," adding that he wished to be referred to as either a "gallivanting boulevardier" or a "beer-fueled sex rocket."
Even then, the gallivanting boulevardier told the magazine that he has "zero tolerance for the climate hoax scam nonsense in any venue that I am personally funding."
Kennedy—former member of Riverkeeper and the National Resources Defense Council, and founder of the Waterkeeper Alliance—has positioned himself as a climate change man-in-arms, but the evening embodied the incoherencies of his campaign. While previously throwing his support behind much-needed mass action like the Green New Deal, Kennedy posted a video just this week saying that "free markets are a much better way to stop pollution," advancing the claim that climate change is "being used to control us through fear."

Meanwhile, people across the nation remain in justifiable despair at the continued inaction on climate change. Just ask Vermonters or New Yorkers who lost their homes and livelihoods to this week's disastrous flooding, or Texans and Floridians who have fallen ill or even lost loved ones to the sweltering heat, what they're more afraid of: everything they've lost from climate destruction, or the government actually doing something about it.