Take That, Tuberville: Biden Rejects Plan to Move Space Command to Alabama
Biden has overturned a Trump decision to move Space Command headquarters from Colorado.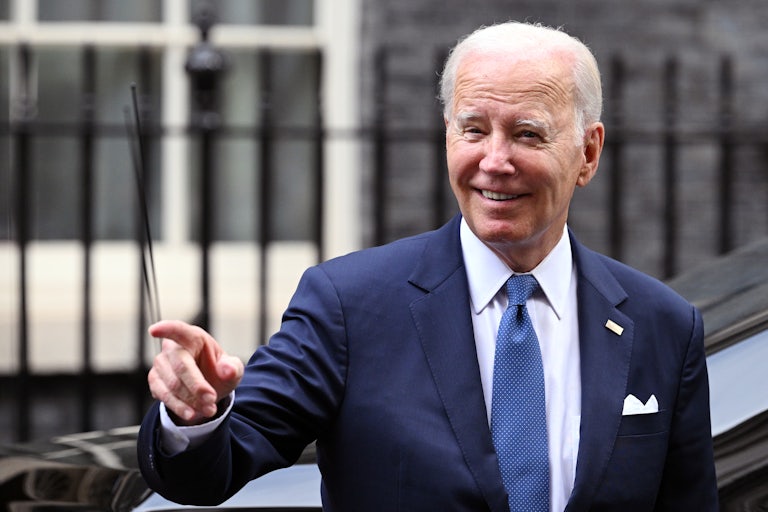 Leon Neal/Getty Images
President Joe Biden will keep the U.S. Space Command headquarters in Colorado, instead of moving it to Alabama as his predecessor wanted, a move many fear will aggravate ongoing political debate.
Days before he left office, Donald Trump announced that Spacecom headquarters would move to Alabama, bragging he was "single-handedly" responsible for the state's selection. The Biden White House ordered multiple reviews—both of the process that led to Trump's decision and a review of that first review—to determine whether the move was politically motivated.
Although no improper political influence was found, Biden has decided to keep Spacecom in Colorado, senior U.S. officials told the AP on Monday, speaking anonymously. The officials said the head of Spacecom, General James Dickinson, successfully argued to the president that moving the headquarters would jeopardize military readiness.
The choice of the phrase "military readiness," even if the AP is paraphrasing, is notable considering the ongoing battle between the Department of Defense and Alabama Senator Tommy Tuberville. Tuberville has blocked hundreds of military promotions since March in objection to the Defense Department's abortion policy. Defense Secretary Lloyd Austin told reporters two weeks ago that Tuberville's blockade "is a readiness issue." The secretary has previously warned the block "harms America's national security."
The officials told the AP that abortion had no effect on Biden's decision. Other proponents of keeping the headquarters in Colorado said a move would stall Spacecom's progress, in part because new headquarters in Alabama wouldn't be completed until after 2030.
But the administration's initial review of the decision to move Spacecom to Alabama came just months after the state implemented a law banning nearly all abortions, including in cases of rape and incest.
Other Alabama lawmakers had expressed concerns that Tuberville's dangerous abortion protest would affect the Spacecom decision. The Alabama delegation sought in May to meet with Air Force Secretary Frank Kendall about the delay in the headquarters' move.

"It saddens me that my senator is holding hostage these military promotions," Representative Terri Sewell, Alabama's lone Democratic lawmaker, told Punchbowl. "I hope that that won't affect—but I'm afraid it will affect—the decision."
Keeping Spacecom in Colorado means that Alabama will miss out on 1,400 jobs and millions of dollars in economic impact. Whether or not Tuberville's blockade was actually a factor, he could well get blamed in the court of public opinion.