House Democrats Blast James Comer for Hiding "Key Evidence" in Biden Probe
Democrats say James Comer is refusing to publish a transcript that would disprove many of Republicans' claims.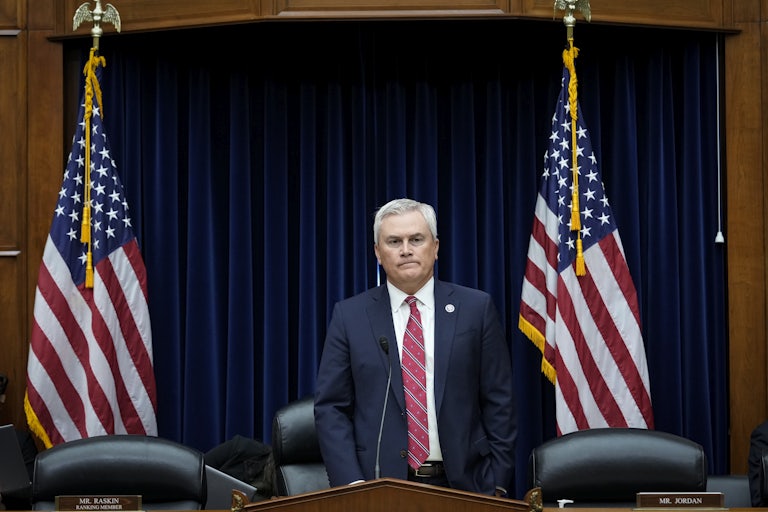 Drew Angerer/Getty Images
House Oversight Chair James Comer
House Democrats are accusing Oversight Chair James Comer of "concealing key evidence" that disproves Republicans' claims in their investigation into the Biden family.
Jamie Raskin, the ranking Oversight member, sent Comer a letter on Friday demanding he release the complete transcript of a committee interview last week with a former FBI supervisory special agent. The Oversight Committee had released five "key takeaways" from the interview, but not the transcript of what was actually said.
"This failure to release a transcript is the latest in your troubling pattern of concealing key evidence in order to advance a false and distorted narrative about your 'investigation of Joe Biden' that has not only failed to develop any evidence of wrongdoing by President Biden but has, in fact, uncovered substantial evidence to the contrary," Raskin charged in his letter, which was obtained by The New Republic.
"Your conduct flies in the face of the Committee's traditional commitment to transparency and underscores the illegitimacy of an investigation that you have described as your 'top priority' and that has recently devolved into a voyeuristic obsession with salacious aspects of Hunter Biden's life."
House Republicans, led by Comer, have for months accused the Biden family of corruption but have been unable to provide any actual evidence linking President Joe Biden or his son Hunter to any wrongdoing. They recently seized on Hunter Biden's taxes, insisting that he committed fraud.
The Oversight Committee heard testimony last week from two IRS agents who say the Department of Justice dragged its feet on investigating the younger Biden for tax fraud. The hearing produced zero actual evidence, so instead, Marjorie Taylor Greene held up poster-size prints of Biden's nude photos, which she says were taken off of his laptop. (This would be the "voyeuristic obsession" Raskin mentioned.)
In his letter, Raskin accused Comer of refusing to release the FBI agent's transcript because it "discredited" the IRS whistleblowers' claims. Raskin said the testimony would instead show the investigation into Hunter Biden's taxes followed procedure and was free of political motivations.
This is not the first time that Raskin has urged Comer to be more transparent about his Biden investigation. Raskin sent Comer a letter in April calling on him to share information with committee Democrats.
Since then, Raskin said in Friday's message, Comer has refused to give his colleagues a copy of Hunter Biden's laptop hard drive, despite continuously citing information from it in media appearances.
Comer has also pushed a years-old, widely debunked conspiracy theory originally started by Rudy Giuliani, and he has publicly discussed confidential but unverified information, including anonymous whistleblower claims and the contents of bank suspicious activity reports, or SARs. Earlier this month, Comer accused the president of laundering money through his granddaughter's account, insisting he had a SAR to prove it.
"Your decision to publicize details of a confidential SAR and speculate about President Biden's grandchild, who was a minor for much of the time period covered by the SAR, suggests that the aim of your investigation is simply to smear President Biden and his family," Raskin said in his letter.
Comer has let his true intentions slip before. He and his fellow Republicans continue to insist Biden is guilty of corruption, despite repeatedly admitting that they have no evidence, they don't know if their information is legitimate, and they don't even really care if the accusations are accurate.