Georgia Republican Says Trump Has "Moral Compass" of "Ax Murderer"
Former Georgia Lieutenant Governor Geoff Duncan is not mincing words.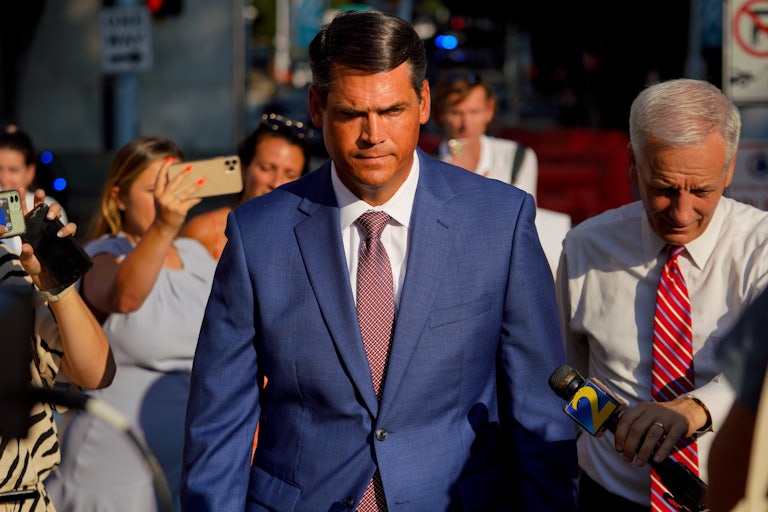 Ben Hendren/Bloomberg/Getty Images
Geoff Duncan, the Republican former lieutenant governor of Georgia
Former Georgia Lieutenant Governor Geoff Duncan tore into Donald Trump for his attempts to overturn the 2020 presidential election, slamming the former president as having the "moral compass" of an "ax murderer."
Trump surrendered to Georgia authorities last week on charges of felony racketeering for trying to overturn the state's election results after the 2020 general election. Duncan, a Republican, was serving as lieutenant governor to Brian Kemp at the time.
"As a Republican, the dashboard is going off with lights and bells and whistles telling us all the warning things we need to know," Duncan told CNN Monday night. "Ninety-one indictments, fake Republican, $8 trillion worth of debt—everything we need to see to not choose him as our nominee, including the fact he's got the moral compass of, more like an ax murderer than a president."
Duncan also described Trump's wrongdoings as a "Ponzi scheme of lies" and a "two-plus-year crime spree from coast to coast."
Trump and his 18 co-defendants will be arraigned in Georgia on September 6. Trump has repeatedly insisted that he did nothing wrong. But the state's Republican leaders aren't having any of it.
In addition to Duncan, Kemp is one of the few Republicans to have explicitly shut down Trump's claims. Trump pleaded with Kemp to get the state legislature to override the election results and appoint new electors who would back Trump, but Kemp refused to cave.
"The 2020 election in Georgia was not stolen," Kemp tweeted after Trump was indicted. "For nearly three years now, anyone with evidence of fraud has failed to come forward—under oath—and prove anything in a court of law. Our elections in Georgia are secure, accessible, and fair and will continue to be as long as I am governor."
Trump also infamously begged former Republican Secretary of State Brad Raffensperger to "find" 11,780 votes—the exact number needed to flip the state's election results to Trump. Raffensperger has refused to play ball too.
"The most basic principles of a strong democracy are accountability and respect for the Constitution and rule of law," he said after Trump was indicted. "You either have it, or you don't.