"We Will Kill You": Trump Supporters Threaten Judge, Jurors Amid Indictments
Trump is facing four indictments—and his supporters are setting out to hurt those trying to hold him accountable.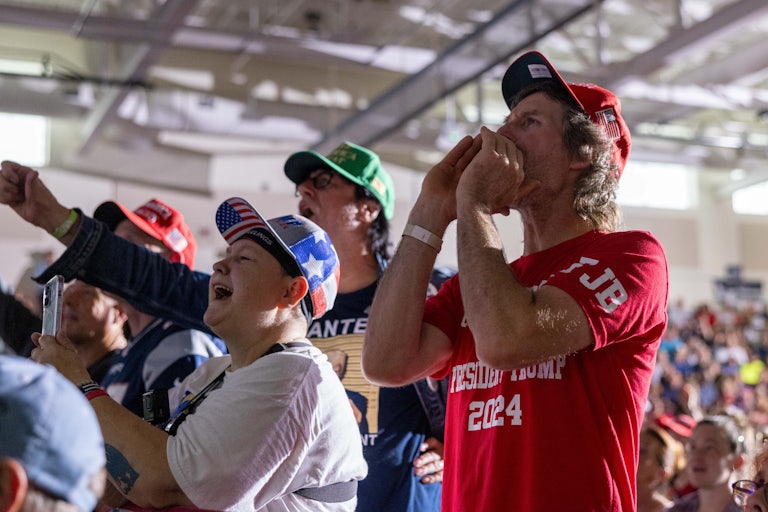 Scott Eisen/Getty Images
Trump supporters cheer while Donald Trump delivers remarks in Windham, New Hampshire, on August 8.
"You are in our sights, we want to kill you."
This was the totally normal, not-at-all terrifying voicemail that a Donald Trump supporter left for Judge Tanya Chutkan, the U.S. District Court judge in Washington who is presiding over one of the former president's indictment cases.
Shry called Chutkan, who is Black, a "stupid slave" and said the judge would be "targeted personally, publicly, your family, all of it." Shry warned that "if Trump doesn't get elected in 2024, we are coming to kill you."
When she was arrested, Shry admitted that she had also threatened to kill Texas Democratic Representative Sheila Jackson Lee, who is also Black.
The same day that Shry was arrested, the grand jurors who indicted Trump in Georgia were doxxed, meaning that their personal information was shared online. Georgia is one of the few states that publishes the names of jurors for the sake of transparency in criminal proceedings.
Internet users have shared the grand jurors names and addresses on far-right message boards and made violent threats against them. One user on the message board where the QAnon conspiracy theory began threatened to "follow these people home and photograph their faces."
A user on another message board described the jurors' names as a "hit list." Another user responded, "Godspeed anons, you have all the long range rifles in the world."
Yet another user said they were "about ready to go Turner Diaries on these treasonous n***** fucks," referring to a gruesome white supremacist book, written by a neo-Nazi leader, that has inspired multiple acts of violence.
It should come as no surprise that the people involved in holding Trump accountable, particularly people of color, are under threat from his supporters. Trump supporters rioted on January 6, with many arguing Trump himself had summoned them to Washington. Acts of extremist political violence are on the rise, and many can be traced directly back to Trump's own rhetoric.