Vivek Ramaswamy Was Once a Libertarian Rapper
Here's the (very embarrassing) footage.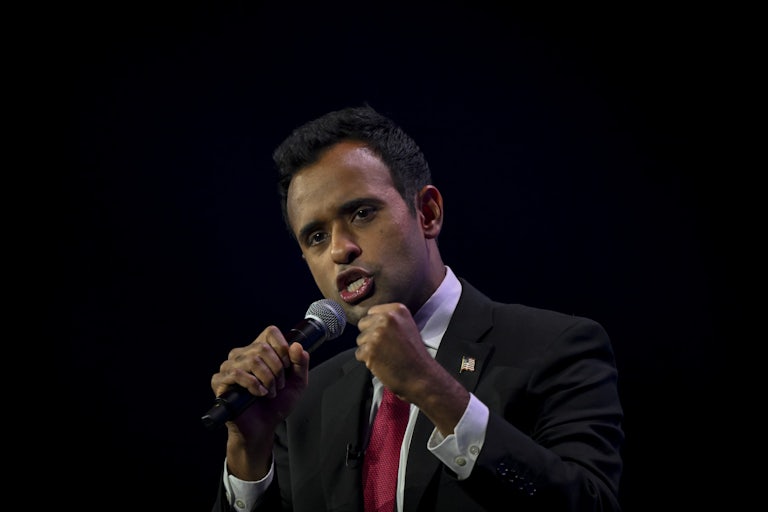 Eva Marie Uzcategui/Bloomberg/Getty Images
Before Vivek Ramaswamy wanted to become president of the United States, he wanted to become … a libertarian rapper.
Politico reported Wednesday that Ramaswamy, while an undergrad student at Harvard, had a side gig as "a libertarian-minded rap artist who went by the stage name 'Da Vek.'"
The "anti-woke" candidate was especially inspired by Eminem, whose hit song "Lose Yourself" came out in 2002, just before Ramaswamy started at Harvard.
A friend provided footage of Ramaswamy's performance of the song—and it is almost as bad as his presidential campaign.
Ramaswamy appears out of breath and raps offbeat for much of the cringey clip, which you can watch for yourself here, if you dare:
Ramaswamy regularly performed at Harvard open mics, and frequently chose to sing "Lose Yourself." He also often tried out lyrics with "libertarian themes" in his performances.
"I saw myself, honestly, making it big through American capitalism, and that's why the Eminem story spoke to me," Ramaswamy told Politico.
He described finding inspiration in Eminem's success, given his background.
"He's growing up in the trailers, with a single mom, and he wants to make it. He's going to use the moment to do it. He feels like he's going to use the moment to do it, he seizes it and then he makes it happen, and I thought it was a pretty cool story," said Ramaswamy, who is of Indian descent.
"I didn't grow up in a trailer," he added, "but I also didn't grow up in the same circumstances that most of my peers at Harvard did, either. I aspired to achieve what many of their parents did. It kind of spoke to me, I would say."
Ramaswamy conveniently ignored that Eminem has railed against Donald Trump's politics, racism, and general morals. In a 2017 freestyle rap, Eminem made his views quite clear:

The rest of America stand up,

We love our military, and we love our country,

But we f---ing hate Trump.
Ramaswamy instead has gone in the opposite direction from his role model, sucking up to Trump every chance he gets, even while running against him. Ramaswamy has promised to pardon his 2024 rival and dismissed Trump's encouragement of the January 6 attack as "not a crime."