Federal Prosecutors Want to Know How Drunk Giuliani Was While Advising Trump
Special counsel Jack Smith is investigating whether Trump was taking advice from an inebriated lawyer when trying to overturn the 2020 election.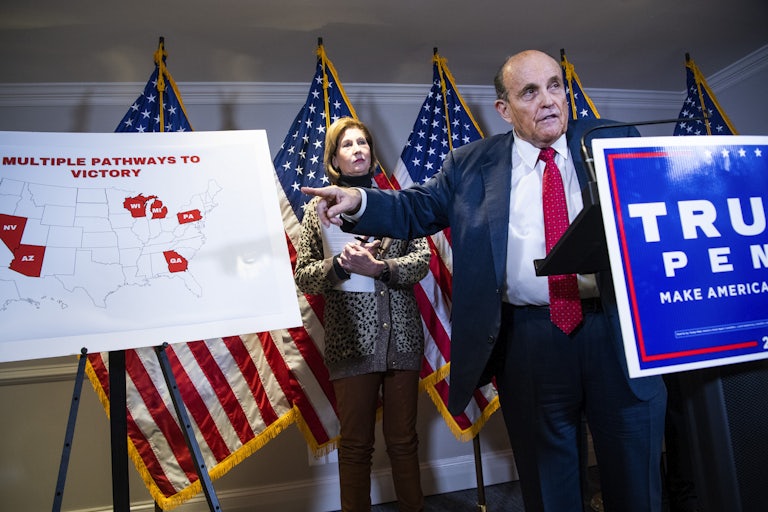 Tom Williams/CQ-Roll Call, Inc/Getty Images
Rudolph Giuliani, then attorney for President Donald Trump, conducts a news conference at the Republican National Committee on November 19, 2020.
Jack Smith has been asking witnesses whether Rudy Giuliani was regularly drunk on and after Election Day 2020. If he was, and Donald Trump knew, then it could undermine one of the former president's main defenses in his federal election interference lawsuit.
Trump was indicted for his role in the January 6 insurrection and other attempts to overturn the 2020 presidential election, one of four indictments. He is charged with conspiracy to defraud the United States, conspiracy to corruptly obstruct an official proceeding, obstruction of and attempt to obstruct an official proceeding, and conspiracy against the right to vote. One of his main defenses has been that he really believed he had won the election and was acting on the advice of his counsel—in this case, Giuliani.
But investigators for Smith, who is probing Trump for election interference and for allegedly mishandling classified documents, have repeatedly asked whether Giuliani was drunk in the weeks he was advising Trump about how to stay in office, Rolling Stone reported Tuesday, citing anonymous sources familiar with the matter.
The investigation team has asked whether Trump ever mentioned Giuliani's drinking habits or complained that the drinking affected Giulinia's decision-making process. Investigators also asked whether Trump was warned about Giuliani's allegedly excessive drinking, especially after the 2020 election.
Some witnesses reportedly told Rolling Stone that they saw Giuliani drinking heavily or could smell alcohol on his breath, including on Election night, and that his behavior changed before and after he drank. Some witnesses also said that Trump had previously spoken negatively about Giuliani's drinking.
If Smith's team can prove this in court, then they could undermine Trump's advice-of-counsel defense. If Trump relied on a lawyer that he knew was drunk and acting recklessly, then that would add to the prosecutors' argument that Trump was acting with willful recklessness in his attempts to overturn the election.
Giuliani denied the allegations of drunkenness. "It's unfortunate that political opponents would use a serious problem like alcoholism as part of their efforts to smear Mayor Rudy Giuliani—a man who took down the Mafia, cleaned up New York City, and comforted the world following the September 11th terrorist attacks," Giuliani's political advisor Ted Goodman said in a statement to The New Republic.
This isn't the first time that Giuliani's alleged drunkenness has come up in a lawsuit. Giuliani's former associate Noelle Dunphy sued him in May, accusing him of promising to pay her a $1 million annual salary but instead raping and sexually abusing her over the course of two years. Her lawsuit alleges that Giuliani was constantly drunk, talked openly about trying to overturn the 2020 election, and even plotted to sell pardons with Donald Trump for $2 million each.
This article has been updated.