Alexandria Ocasio-Cortez Roasts Kevin McCarthy and His Sad "Boy Math"
AOC has had enough of the House speaker's antics as Republicans push us toward a government shutdown.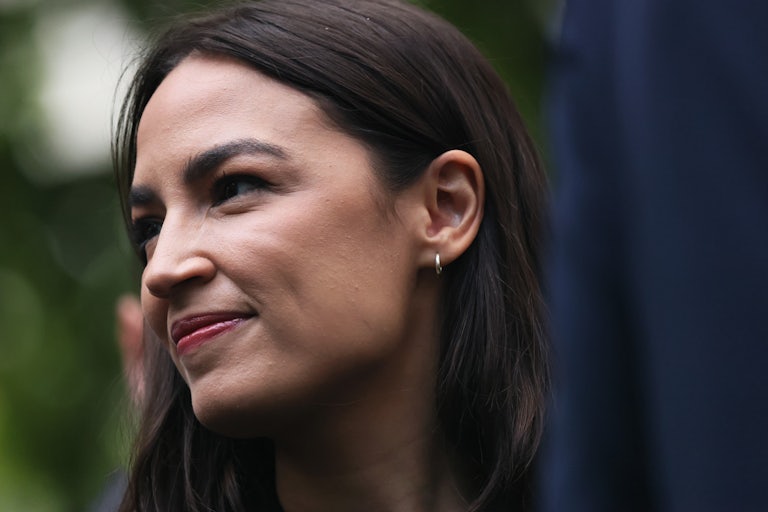 Michael M. Santiago/Getty Images
Representative Alexandria Ocasio-Cortez used "boy math" to epically troll Kevin McCarthy over the looming Republican-created government shutdown.
"Boy math" is a phrase used on social media to joke about the way heterosexual men stereotypically rationalize or misvalue numbers or prices. Some examples of boy math include "how 5'10" measures 6'," "having a 70inch tv but no dining table," and "being afraid of gold diggers when you only have 3 pairs of socks to your name."
Ocasio-Cortez joined the trend with a hilarious tweet Tuesday night.
Congress is just days away from its September 30 deadline to pass a spending bill—and House Republicans are in shambles. The farthest-right wing of the party is threatening to shut down the government unless federal spending is slashed dramatically. The House failed last week to even begin debating on the Defense Department appropriations bill, when five Republicans broke from their party to block a procedural rule to begin debating the appropriations measure.
The Senate advanced a short-term funding bill late Tuesday that would keep the government open into November. But given the House's chaos, it's unclear whether the measure would even pass the second chamber.
This is the second Democratic representative to take hilarious aim at McCarthy over the shutdown. Angie Craig introduced the "My Constituents Cannot Afford Rebellious Tantrums, Handle Your Shutdown Act," or the "MCCARTHY Shutdown Act," last week.
The bill would temporarily block the paychecks of Congress members during a government shutdown. Currently, shutdowns do not affect pay for lawmakers, but they stop pay for all other federal employees.