Evangelical Christians Got Everything They Wanted From Trump, but They're Still Complaining
Now that the Republican Party is turning on Trump, evangelical leaders suddenly aren't happy with him either.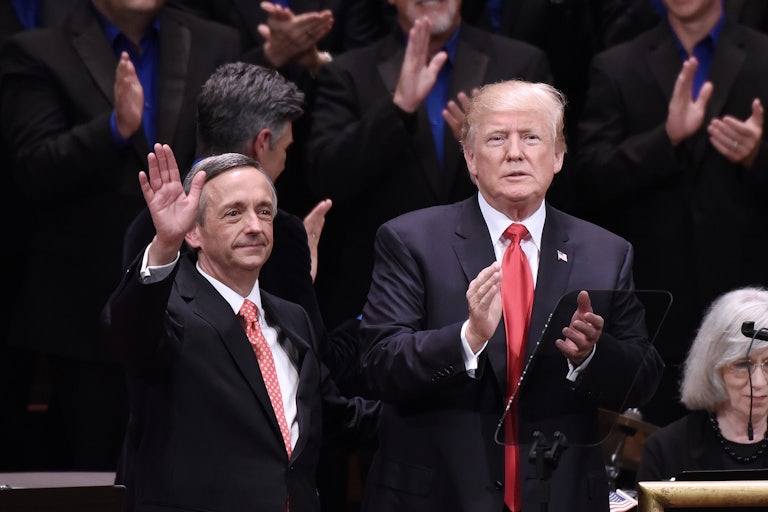 Olivier Douliery/Bloomberg/Getty Images
Donald Trump and Pastor Robert Jeffress greet guests at the Celebrate Freedom Rally in Washington, D.C. on July 1, 2017.
Evangelical Christians who previously backed Donald Trump are now accusing him of using them to further his own goals, after he gave them everything on their agenda.
Major figures in the community have said they don't support Trump's third bid for president and accused him of acting purely for personal gain in his previous runs. "He used us to win the White House. We had to close our mouths and eyes when he said things that horrified us," Christian Zionist Mike Evans told The Washington Post.
Trump both campaigned and governed on a largely evangelical Christian platform. He moved the U.S. Embassy in Israel to Jerusalem; he cracked down on immigration from majority-Muslim countries; and he appointed multiple conservative judges, including to the Supreme Court, which has swung sharply right.
He made good on his anti-abortion promises when the high court removed the nationwide right to the procedure in June. Many LGBTQ protections were rolled back under his watch, and during the June 2020 protests over George Floyd's murder by police, he tear-gassed demonstrators so he could take a heavily posed picture with a Bible in front of St. John's Church near the White House.
But Republican voters and the party in general have begun to turn on Trump, making it look less and less likely that he'll be able to secure the Republican nomination in 2024. And as power slips from his grasp, evangelical Christians are souring on him too.
"The Republican Party is headed toward a civil war that I have no desire or need to be part of," pastor and former Trump ally Robert Jeffress told Newsweek when asked if he would back the former president.
But should Trump get the nomination, "I will happily support him," Jeffress added.
Human rights lawyer Qasim Rashid castigated the Christian leaders for their hypocrisy.
"You knew exactly what you were doing when you excused his sexual abuse, his racism, his Islamophobia, his antisemitism, his white nationalism, his greed, & his corruption," he tweeted. "You used him—and you lost."
More on Far-Right Christianity