Steven Crowder and Others Urge Election Denialist Kari Lake Not to Concede
Conspiracy theories abound after Kari Lake lost the Arizona governor race.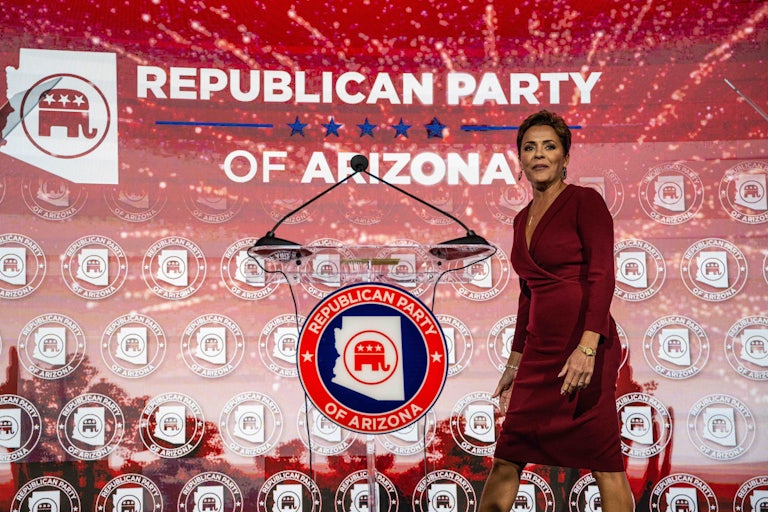 Jon Cherry/Bloomberg/Getty Images
"I guess today, we are all 'election deniers,'" tweeted right-wing commentator Steven Crowder Tuesday morning. Crowder is among those stirring conspiracy about Kari Lake's loss to Katie Hobbs in Arizona's gubernatorial race. "DO NOT CONCEDE," Crowder insisted.
Before the election, Crowder suggested a peaceful transfer of power was overrated. And after the election, Crowder switched to peddling conspiracy theories to over 80,000 Rumble viewers on his program Louder With Crowder.

One of these theories involved polling locations in Maricopa County, where ballot printers were not producing ink dark enough to be read by tabulators. But in reality, the county's election officials—largely Republicans—had numerous solutions in place so all votes could be soundly counted.
Crowder and his panel also couldn't believe that longtime Arizona Republican and incumbent Treasurer Kimberly Yee won more votes than inflammatory John McCain–slamming Kari Lake. The panel almost approached some self-awareness on that notion.
"We're spending a lot of our time right now thinking, 'Did we get cheated, did we really lose?'" panelist Gerald Morgan Jr. said. "I'm spending most of my time on this instead of going, 'OK, well hey, we lost, why did we lose? Was it because Kari Lake took a giant steaming dump on John McCain and maybe she played better nationally than she played in Arizona?' OK, maybe. I highly doubt it."

Crowder and company have not been alone in sowing distrust in Kari Lake's lost election. Former President Donald Trump posted on Truth Social that "they just took the election away from Kari Lake."
Right-wing commentator Todd Starnes echoed Crowder's call:
MyPillow CEO Mike Lindell alleged "computer manipulation:"
The list goes on. These voices all fall in line behind Lake herself, who has spent a good majority of her campaign sowing conspiracy and distrust in elections (as if not only trying to curry favor with Trump but to prepare for her own loss the whole time).
After losing, Lake took to Twitter, showing she had no intention of conceding for the time being:
It's not shocking that Lake, whose campaign has largely been about denying truth, has yet to concede. But nearly every other big-ticket election denialist who has run and lost thus far has conceded.
Online commentators may try to keep Lake's false hope alive, but it won't be enough. Congressional Republicans now are largely occupied with picking new leadership and navigating a dangerously slim House majority. They, just like most of the country and like Arizona voters, are moving on from Lake—whether right-wing commentators believe it or not.