Report: Expanded Child Tax Credit Created Largest Drop in Child Poverty in a Single Year
The expanded tax credit, which Congress let expire, helped dramatically reduce child poverty.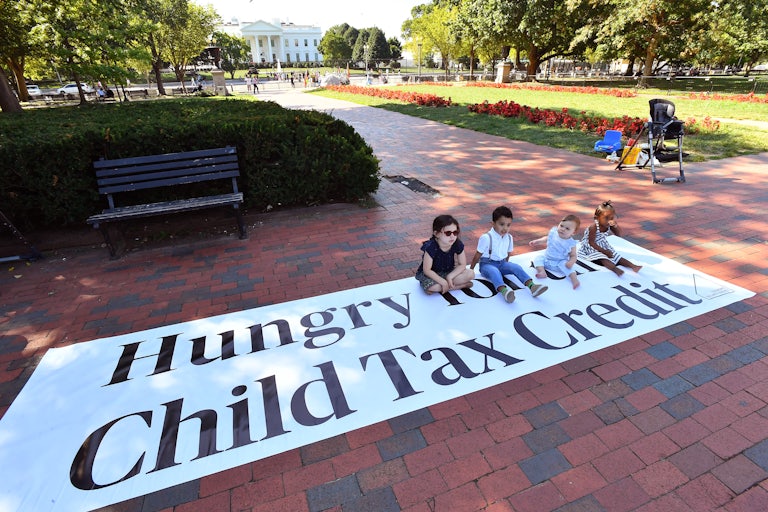 Larry French/Getty Images/SKDK
The expanded child tax credit, or CTC, created the largest drop in child poverty in a single year, according to a new report from the Joint Economic Committee Democrats. In 2021, child poverty nearly halved, dropping from 9.7 percent to 5.2 percent.
The CTC, expanded under the 2021 American Rescue Plan, lifted 5.3 million people, including 2.9 million children, out of poverty in 2021. According to the report, 2.1 million of those children were lifted out of poverty specifically due to the expansion.
The expansion increased the value of the CTC from $2,000 per child to up to $3,600 per child under 6 years of age, and to $3,000 per child between the ages of 6 and 17. The credit was available to couples that made up to $150,000, or single heads of households that made up to $112,500.
Lifting millions out of poverty, the measure made 19 million more children eligible for the credit. The credit was also made fully refundable, allowing previously ineligible low-income families to receive the full credit, which accounted for some 80 percent of the reduction in child poverty.
Such effects dramatically impacted the lives of millions across the country. One man told The New York Times how his family was able to take a vacation for the first time, camping for a night in state park. Another woman explained how she worked a second job as night janitor to pay for her daughters' cheerleading classes; with the expansion, she was able to quit and actually take the girls to the practices.
Congress, particularly Joe Manchin and Republicans, prevented the life-altering measure from being extended through the Inflation Reduction Act. Such glimmers of hope for families—like being able to go camping for the first time or quit a second job and go to a kid's practice—have been left to fade away.

Now advocates for the CTC, like Senators Michael Bennett, Sherrod Brown, and Cory Booker and Representatives Rosa DeLauro and Suzan DelBene, are hoping to renew the measure in an end-of-year tax deal. But, as it remains unclear how Congress will complete a government funding bill for fiscal year 2023, so the fate of the CTC is subject to those negotiations.

In the meantime, the dramatic, life-changing impacts of the CTC cannot be forgotten—and they cannot be left to fade away without a fight.
Read the rest of the report here.
More on the Child Tax Credit